Claire Goose: 'Jane's world is shattered when she recognises her mother's killer 23 years later'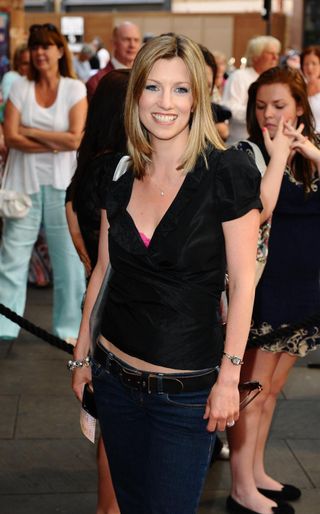 ITV's new two-part thriller Undeniable stars Claire Goose as Jane, a woman who witnessed her mother's death as a young girl.
Fast-forward 23 years and the past comes back to haunt grown-up Jane when she randomly bumps into respected consultant oncologist Andrew Rawlins (Spooks star Peter Firth). Former Casualty star Claire Goose explains why Jane's certain he's the man who murdered her mum – and why she may be mistaken…
What can you tell us about Jane?
"Jane's quite a fragile person because her mother was murdered when she was little. It turns out she's had some fairly major breakdowns and ended up in a psychiatric ward as a teenager."
She's married and has a little girl of her own at the beginning of the drama. Has she managed to put the past behind her?
"At the beginning of the show we find her in a really good place. Her marriage to husband Rob (Doc Martin's Felix Scott) is absolutely solid and they're a great unit."
How does life change when she recognises her mother's killer?
"Her world is shattered. Jane's convinced she saw Andrew Rawlins by the body of her mother 23 years ago. Things start to unravel and it transpires she's accused people of this in the past and it led to a breakdown and suicide attempt."
How do the people in Jane's life react to her accusations?
"It's not straightforward. You discover Jane's come off her antidepressants because she's pregnant. Her behaviour becomes more paranoid so you can't be sure whether she's mentally unwell or whether Rawlins really is the killer! Rob and her dad (Robert Pugh) are concerned this is going to push her over the edge and she should walk away. There's tension everywhere!"
Why can't Jane walk away?
"Jane just can't do it. She's convinced it's Rawlins and feels, in order to live a full life and find closure, her mother's murderer needs to be punished. She wants justice for her mother and for herself. She's set her mind on it and won't be deterred. It gets very messy!"
Undeniable was shot in Ireland last year. Was it hard to be away from your family?
"We filmed in Dublin in some beautiful, but windy, locations! I missed my daughters and husband, as this is the longest period I've been away from them. But because it's an intense role and I was in almost every scene I was kept busy!"
Did you enjoy playing the leading lady?
"It's been challenging and exhilarating. It's an amazing part and a fantastic cast with three strong women (Pippa Haywood and Christine Bottomley co-star). Although it's Jane's story I never felt I was the lead, as everyone's got an important part to play. It's a moving and emotional drama."
Get the latest updates, reviews and unmissable series to watch and more!
Thank you for signing up to Whattowatch. You will receive a verification email shortly.
There was a problem. Please refresh the page and try again.