Couch Potato Wedges: dipping into some lesser known facts about The Stepford Wives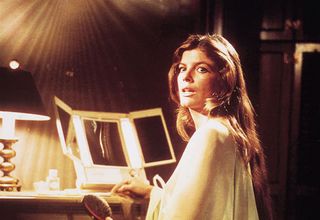 1. The Stepford Wives is based on the novel by Ira Levin, who also penned Rosemary's Baby.
2. It tells the story of Joanna, a young housewife who moves from New York to the suburban town of Stepford and slowly discovers something sinister behind the tranquil air of her neighbours. The film has spawned the sequels Revenge of the Stepford Wives, The Stepford Children, and The Stepford Husbands, plus an inferior remake.
3. Diane Keaton was originally cast as Joanna, but Katherine Ross stepped into the role when Keaton pulled out before filming began.
4. Susan Sarandon, Julie Christie, Vanessa Redgrave, Jane Fonda, Natalie Wood, Jacqueline Bisset and Stockard Channing were just a few of the other beauties considered for the Joanna role.
5. The film co-stars Nanette Newman, whose role as a Stepford wife is all the more amusing considering her reputation as the Fairy Liquid queen.
6. Mary Stuart Masterson made her film debut as one of the children.
7. It's possible to emulate a Stepford wife without living in Stepford. Here's how.
8. The term 'Stepford Wife' has become a widely used term to describe women who willingly take on a subservient role in their relationships. Since marrying Tom Cruise, Katie Holmes has been regularly targeted with this label by the gossip press.
9. The 1998 film Disturbing Behaviour is a teen version of The Stepford Wives, with a twist. How ironic that it also stars Katie Holmes.
10. Even more ironic, however, is the fact that The Stepford Wives remake stars Nicole Kidman.
Showing on ITV3 tonight at 9pm
Get the What to Watch Newsletter
The latest updates, reviews and unmissable series to watch and more!