Daniel Radcliffe: 'I don't think I was a gifted actor as a kid at all!'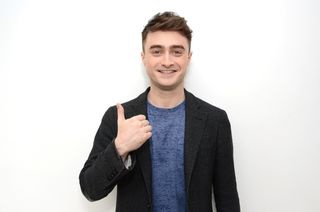 As Daniel Radcliffe, 24, becomes the youngest person profiled by The South Bank Show (opens in new tab) (Sky Arts, Thurs, June 26), he tells TV Times magazine (opens in new tab) about his post Harry Potter career plan, and his unlikely mentor Gary Oldman…
Do you feel like after three years, you've been able to move away from Harry Potter?
"Very rarely do I get people shouting 'Harry Potter!' at me any more. People tend to know my name now, which is lovely. I feel like I've achieved it in the way I wanted to achieve it, because I never wanted to be one of those people that had to be disparaging about what they'd done in the past in order to make a career for themselves in the future."
Do you mind that association, though?
"I always will credit all the opportunities I get to Harry Potter. I loved the experience and I don't think I'd be a happy person if I felt bitter about 10 years of my life in some way."
What are your fondest memories of working on the franchise?
"I remember I was going on my first date and doing a scene with Gary Oldman the same day, and I ended up being anxious, and asking Gary for advice! I think my best work in the Potter films comes whenever I'm in a scene with Gary. Just being around him made me want to push myself every time because that's what you see in his work and when he's on set. Gary knew how much I loved Potter, but also knew how much I wanted to be an actor after that. He said, in much the same way that my parents always have encouraged me, 'Go your own way, don't feel you have to do a certain type of movie, just do things you want to do'."
Do you mind being stopped for an autograph by fans?
"I think it's probably easier when you've grown up with fame than to suddenly have it sprung upon you, because it started so young with me, my own life adapted around it' he reflects. I've just accepted there will always be people with Harry Potter books and Gryffindor scarves to sign, and I don't mind because there's a lot of playbills too."
Has this incredible career been a surprise to you?
"I definitely drifted into acting to start with. I saw an interview where I earnestly answered that I wanted to be a professional wrestler when I grew up – I was very into WWF at the time! But when I found myself on film and TV sets when I was young, I took to it. Not necessarily in terms of the acting, I don't think I was particularly gifted as a kid at all, but I loved it! Towards the end of Potter, people asked: 'Do you think you're going to have a career after this?' One person put it as bluntly as: 'Do you think your best years are behind you at 21?' I said no. I knew they wouldn't be because I always had a plan."
What is your plan?
"There's something to be said for just trying stuff. No one's the leading man for ever. I want to be working when I'm 60 and I'm not going to be doing teen rom-coms at that age, so you have to find other stuff to be good at, and I hope that's what I'm doing now... If I could carry on like this for the rest of my life, I'd really be happy."
In 2011, you revealed you were teetotal after becoming reliant on alcohol to help you cope with fame and 'fear' that you wouldn't have a career after Harry Potter…
"That did weigh on me a bit. I've definitely benefited from not drinking. It wasn't making me as happy as I wanted it to or relieving any of that pressure or making anything easier."
Get the latest updates, reviews and unmissable series to watch and more!
Thank you for signing up to Whattowatch. You will receive a verification email shortly.
There was a problem. Please refresh the page and try again.