Outnumbered's Daniel Roche: 'I've calmed down since I was little, but I don't know if Ben has!'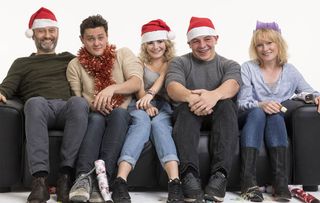 (Image credit: BBC/Hat Trick/Colin Hutton)
The kids from Outnumbered give the lowdown on returning for a Christmas special
It's nearly three years since the last series of award-winning BBC1 comedy Outnumbered but the Brockman kids - Jake (Tyger Drew-Honey, aged 20), Ben (Daniel Roche, 17) and Karen (Ramona Marquez, 15) are back for a Christmas special. Along with long-suffering parents Sue and Pete (Claire Skinner and Hugh Dennis), they try to carry out a Boxing Day mission in honour of Grandad. But, as usual, various obstacles hamper their progress and they find themselves stuck in the car. Tyger, Daniel and Ramona tell us more…
How does it feel to be back? Ramona: "It's exciting to find out what has happened to them all but we know our characters so well that it's easy to get back into their mindset." Daniel:"Yes, it is nice to be back for a little nostalgic visit and I was interested to see how they've all moved on. I've calmed down since I was little but I don't know if Ben has."
How do you think the audience will react to them being older? Tyger: "Last time people complained that we were too old, which is weird because we age at the same rate as everyone else! This time, we see that the family goes through what any ordinary family does as kids get older, which is touching." Daniel: "People our age have grown up watching us so that will be poignant for them but their parents who liked the show because it hit home will see that it has hit home again but just at a different point."
Has it been fun to catch up with Hugh and Claire again? Ramona: "Yes, it's funny because I was too young to watch Mock the Week last time, but now my boyfriend and I always watch it so I feel star-struck and think, 'I was working with Hugh Dennis.'" Tyger: "Since we did Outnumbered last, Claire has played my mum – again named Sue – in CBBC animation Scream Street. It's really strange playing mum and son with her again."
Do you ever watch old episodes? Daniel: "To know that people still watch me as a seven-year-old is nice but I hate watching it. Sometimes I pop my head around the door and my parents have it on and I shout, 'What is wrong with you?!'" Ramona: "Often I will be at a sleepover with friends and they want to watch Outnumbered even though I've seen it so many times. Some of the episodes from when I was younger are fun to watch but with the more recent ones, I cringe at myself."
Tyger, you've presented several documentaries and starred in comedies such as Cuckoo since the last Outnumbered, what have you been up to Ramona and Daniel? Daniel: "I haven't really done much TV so it was weird getting back in front of the camera. Rugby is a big commitment now and I am semi-professional with Wasps academy." Ramona: "My GCSEs are this year but I want to do more acting especially after this comes out and people have more of an idea what I look like now."
Outnumbered screens on Boxing Day on BBC1 at 10pm
Get the latest updates, reviews and unmissable series to watch and more!
Thank you for signing up to Whattowatch. You will receive a verification email shortly.
There was a problem. Please refresh the page and try again.