Catherine Zeta Jones leads tributes to 'national treasure' Moray Watson, who's died at 88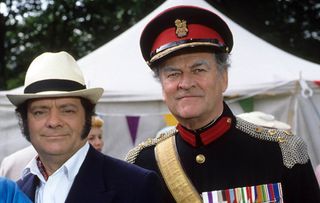 (Image credit: ITV/REX/Shutterstock)
The Darling Buds of May actor Moray Watson has passed away after a short illness, his family have announced
Star of stage and screen actor Moray Watson has died after a short illness, his family have confirmed.
The 88-year-old was well known for playing the part of the Brigadier in ITV drama The Darling Buds Of May alongside David Jason and Catherine Zeta-Jones.
In a statement to the Press Association, Catherine said: "Such sad news that the wonderful Moray has passed away.
"I have beautiful memories of working with him on The Darling Buds Of May.
"A true gentleman, we shall all miss him. He was and is a national treasure."
A renowned stage actor, he won fans for his role as Trevor alongside lead Cary Grant in 1960 film The Grass Is Greener, and went on to play Richard Lowe in 1960s soap Compact, as well as appearing in two episode of Doctor Who in the 1980s.
The old Etonian, who completed national service in the Army, died in Hillingdon Hospital in London on Tuesday.
Author and presenter Gyles Brandreth led the tributes to his long-time friend, describing Mr Watson as 'a gentleman' armed with a stash of witty anecdotes.
He told the Press Association: "What was extraordinary about him was his versatility.
"From a soap like Compact, to making a movie alongside Cary Grant, Doctor Who and the Darling Buds – he really was a safe pair of hands, and a calming influence to have on stage and on set.
"But he was also tremendously funny.
"People loved him because, as a person, he was very witty, very droll.
"He had a fantastic sense of humour, and he would bring out these wonderfully amusing anecdotes – including an excellent impression he used to do of Cary Grant.
"He was also extremely kind to people, and he was in every sense a gentleman.
"He had an extremely successful career on the stage too, and he had three one-man shows which he took around the country at various times.
"You could rely on Moray." Watson is survived by his son Robin, daughter Emma and four grandchildren.
His wife, American-born actress Pam Marmont, died in 1999.
Mr Watson's son Robin said his father had been active throughout his life and had recently been living at the Denville Hall retirement home for former actors, actresses and other theatrical professionals.
He said: "He was a very comforting man to be around, and a great wit. "He was terribly funny and had great comic timing. He would play the fool, as well.
"I remember him being very generous. If ever he went away anywhere, to New York or South Africa or India or somewhere with work, he would always bring us back something that seemed terribly fun or exotic.
"He used to have an old-fashioned Mini and I remember being about seven years old and being sat between his legs helping him drive it around Battersea Park, which is near where we lived at the time.
"It was rather naughty, of course, and you'd never get away with that sort of thing these days, but that was what he was like – great fun.
"We were also very proud of him. It was always so exciting to see him on the television.
"I know we have been really touched by all the kind words we've had since he died, and actually since he released his memoirs Looking Back and Dropping Names last year.
"It is so lovely for us to hear that people care about him, and have enjoyed his work, after all this time.
"It's been overwhelming."
A private funeral service is to follow, with a public memorial service to be confirmed at a later date.
Get the latest updates, reviews and unmissable series to watch and more!
Thank you for signing up to Whattowatch. You will receive a verification email shortly.
There was a problem. Please refresh the page and try again.