David Suchet: 'Salvador Dali in Urban Myths is the most extraordinary man I've played'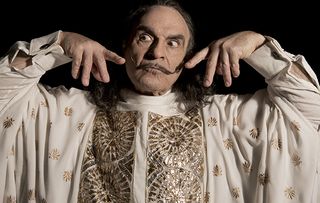 David Suchet on portraying a strange encounter between Salvador Dali and Alice Cooper in Urban Myths
As Hercule Poirot, David Suchet had TV's most impressive moustache but it could be beaten by the facial furniture he sports as Salvador Dali in Sky Arts' Urban Myths.
The actor plays the Spanish artist in an episode that centres on the bizarre few days in 1973 that Dali spent in New York City with heavy metal star Alice Cooper, played by Noel Fielding, when he used Cooper as an inspiration to create one of the world's first holograms.
David Suchet tells TV Times all about playing Salvador Dali in Urban Myths on Sky Arts…
TV Times Have you enjoyed playing Dali?
David Suchet: "Oh it was a lot of fun. I love the format of Urban Myths because nobody knows what actually went on so it's 'tru-ish', which is brilliant, and Dali is the most extraordinary man I've ever played. His was a case of madness being so close to genius. He even used to pop up from under a cloche at the dinner table and we show that."
TVT What drew him to Alice Cooper?
DS: "He saw Alice as this half-man and half-woman, which fascinated him. They spent a few days together and it would have been as surreal a meeting in real life as we've portrayed it. I don't think much logical conversation went on! He ended up creating a hologram of Alice's brain with live ants walking over it. That's pure Dali."
TVT What has it been like working with Noel?
DS: "Wonderful. I'm a big fan. He's such a lovely, genuine guy. Our generation gap and the fact we come from different backgrounds worked terrifically because Dali and Cooper had that too."
TVT You'll be seen later this year as a media mogul in BBC1 drama Press, which follows life on two different newspapers, what was that like?
DS: "Great. I didn't want to play a Robert Maxwell figure because I've played that before [in BBC1's 2007 drama Maxwell]. When I got the script there might have been a hint of somebody else we might know, I won't mention names, and I didn't want that either. I just play him as the guy in charge of that newspaper."
TVT Have you watched last year's Murder on the Orient Express film with Kenneth Branagh as Poirot and will you watch the The ABC Murders, the next BBC Agatha Christie adaptation featuring Poirot?
DS: "I've not had the opportunity to see the film yet and I'm sure I'll watch The ABC Murders eventually. I don't think it'd be odd to watch. I've taken over roles myself and followed great actors like Laurence Olivier. I took over Poirot from Peter Ustinov. Whenever anybody plays a great character for a long time, you just pass on the baton and wish everybody the very best of luck."
Urban Myths: The Dali and the Cooper airs on Sky Arts on Thursday 3 May at 9pm and can also be streamed now
Get the latest updates, reviews and unmissable series to watch and more!
Thank you for signing up to Whattowatch. You will receive a verification email shortly.
There was a problem. Please refresh the page and try again.