The Bake Off's Noel Fielding and Poirot's David Suchet to play Alice Cooper and Salvador Dali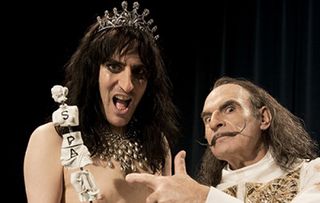 Noel Fielding is rock star Alice Cooper and David Suchet plays artist Salvador Dali in Sky Arts' Urban Myths next year.
The Great British Bake Off's Noel Fielding will play rock star Alice Cooper opposite Poirot's David Suchet as Salvador Dali in an episode of Sky Arts' Urban Myths next year.
The episode, Urban Myths: The Dali and The Cooper tells the story of Alice Cooper's encounter with eccentric artist Salvador Dali in New York in 1973. First, Alice was invited to a surreal dinner party thrown by Dali. Then he was asked to pose naked in a photo shoot while wearing $2 million worth of gems. He was also asked to hold a shish-kabbed statuette of the Venus De Milo!
As our photo above shows, playing rock legend Alice clearly wasn't a huge ask for long-haired Bake Off star Noel. But just look at David as Salvador Dali. We are used to seeing him with a long moustache from his years as Poirot but he looks completely different with flowing locks!
Sheila Hancock co-stars in the drama as Salavdor's wife Gala and Paul Kaye plays Alice's manager Shep Gordon. Ex-Pulp frontman Jarvis Cocker and Richard Hawley, meanwhile, provide the music.
Get the What to Watch Newsletter
The latest updates, reviews and unmissable series to watch and more!