David Tennant: 'The story becomes something you never saw coming!'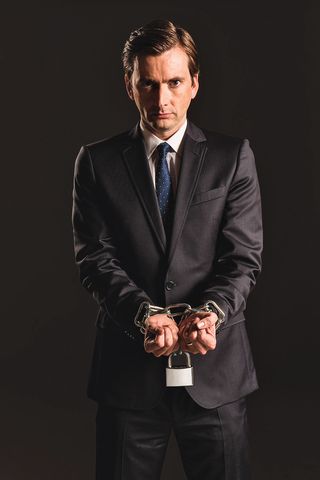 (Image credit: BBC/Endor Productions)
David Tennant is delving into the legal world in a cracking new three-part thriller The Escape Artist, which premieres on BBC1 on Tuesday at 9pm, and sees him as a defence lawyer who has never lost a case but faces devastating repercussions when his client walks free from a murder trial.
TV & Satellite Week put David in the dock to find out more…
Tell us about your character, Will Burton...
"He thrives on chasing unwinnable cases and he has confidence and effortlessness, but there is a hubris too. The courtroom side and the family side to him live easily together, but events happen that pull everything apart."
And there's some rivalry with fellow barrister Maggie Gardner (Sophie Okonedo) isn't there?
"Yes, there is a Top 40 Barristers Under 40 list and he gets number one and she gets number two and it has ever been thus through their career, so she is quite bitter and furious and ready to bring him down in any way she possibly can."
Has the drama made you think about the rights and wrongs of the legal system?
"Yes, everyone deserves a defence or do they? It asks whether you are defending the guilty sometimes and how much you can close your eyes to the evidence and Will wrestles with that, but if you take on a case you set out to win and the morality ceases to matter; it's like a big boys' debating club where it is about outsmarting your opponent irrespective of the consequences. Doing this has made me broadly proud of our legal system, but you also start to see the loopholes and how things unravel on a tiny decision."
What research did you do?
"I watched some trials and our legal adviser Andrew Jefferies is a QC. I found the mental gymnastics at the trials gripping, it really is theatre. Watching Andrew do his stuff and then talking to him afterwards about what he was trying to achieve and where his demeanour in and out of court overlaps was great. You realise how committed lawyers are to giving people a decent defence because he was in the middle of a case where media reports would have you believe that we should throw away the key, but his commitment to his client stopped me in my tracks and I ended up thinking, 'This is a miscarriage of justice.' It is a fascinating job and such an interesting world."
Where did you film the show?
"In the Old Bailey in London, which was great with its beautiful painted ceilings and also a court in Kingston, Surrey, which was fun because I have filmed there previously as a witness. I was also sent down there in the ITV drama Secret Smile when I played a stalker and now I've been there on the defence!"
Ashley Jensen plays Will's wife, Kate, did it help that you have known her for a long time?
"It did because it takes the curse off of things. I was about 20 when we first met on my first ever professional post-drama school gig, but Ashley had been out of drama school a whole year. She had probably just done panto and a tour of Oor Willie, but we all looked up to her starry-eyed."
How do you choose roles?
"I think you just know when one of those scripts comes in that you go, 'Ooh hello, I had better do this one.' This was just one of those that you just read it and there are so many elements to it because at first it is a brilliant courtroom drama and you're watching Will being clever and thinking, 'How did he do that?' but then it becomes something you never saw coming."
Are there any big roles that you have turned down?
"Well, there are things I got close to that didn't work out, stuff that I didn't got and I still to this day wish that I had. Spooks was one of them I was down to the last couple with Matthew Macfadyen!"
You're back in Doctor Who in November for the 50th anniversary, what is your favourite ever Doctor Who moment?
"My favourite ever moment was probably when I was about eight because they are the ones that live with you forever, so maybe Tom Baker and Davros some moment like that."
Do you get fed up being asked about it all the time?
"No, because it has created a great many opportunities for me and it would be very churlish to be down on it and also I am terribly proud of it and I had a wonderfully happy time. I am still a fan, but in a different way because when you are that involved in something, it becomes a part of your life, but I am very passionate about the show."
For the full interview, buy TV & Satellite Week which is on sale now.
Get the What to Watch Newsletter
The latest updates, reviews and unmissable series to watch and more!
Caren has been a journalist specializing in TV for almost two decades and is a Senior Features Writer for TV Times, TV & Satellite Week and What's On TV magazines and she also writes for What to Watch.
Over the years, she has spent many a day in a muddy field or an on-set catering bus chatting to numerous stars on location including the likes of Olivia Colman, David Tennant, Suranne Jones, Jamie Dornan, Dame Judi Dench and Sir Derek Jacobi as well as Hollywood actors such as Glenn Close and Kiefer Sutherland.
Caren will happily sit down and watch any kind of telly (well, maybe not sci-fi!), but she particularly loves period dramas like Call the Midwife, Downton Abbey and The Crown and she's also a big fan of juicy crime thrillers from Line of Duty to Poirot.
In her spare time, Caren enjoys going to the cinema and theatre or curling up with a good book.