David Walliams: 'I'd love a Roald Dahl first edition for Christmas!'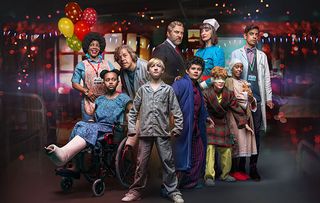 (Image credit: BBC)
David Walliams, who stars in an adaptation of his bestselling children's book The Midnight Gang on Boxing Day, tells TV & Satellite Week what he'd like to find in his stocking this year…
Adaptations of books by David Walliams have become festive fixtures, with six making the Christmas TV schedules in the last seven years.
This year the author, actor and Britain's Got Talent judge, who published his 14th book last month, makes it a magnificent seven with BBC1's The Midnight Gang.
Set in a London hospital, the children's story follows a young lad as he finds out about the amazing adventures some of the other patients have when the lights go out.
TV & Satellite Week caught up with David Walliams, who stars alongside Haydn Gwynne as the matron and Alan Davies as the disfigured Porter, to find out what's in store…
TV & Satellite Week: What's The Midnight Gang about?
David Walliams: "The story follows schoolboy Tom, who is hit on the head by a cricket ball and ends up in hospital. He meets these kids who don't want to include him in their secret plans. It turns out they are The Midnight Gang, and they work together to make their dreams come true at night."
TVSW: What's your role?
DW: "I play the headmaster, who's preventing Tom's parents from getting in touch with him. I meet the matron [Haydn Gwynne] and we bond over the fact we both hate children, and do wicked things like opening their post."
TVSW: You're in another festive show, Sky One's The Queen and I. Do you like being on TV at Christmas?
DW: "It's definitely nice, and there is pressure – but that makes you try harder. Last year was special because of Sir Tom Courtenay appearing in Grandpa's Great Escape. That was a very emotional story about dementia, World War II and the treatment of old people, and he played it beautifully."
TVSW: How was it acting with such a large group of children?
DW: "They started talking to me about Little Britain, and as they are so young I was surprised they'd seen it. They were doing impressions of Lou and Andy! Kids feed off the energy of other kids, and it was great they were a little gang and having a nice time together."
TVSW: What dream did you want to come true as a kid?
DW: "I wanted to meet the actor Brian Blessed, because I was a massive fan of the film Flash Gordon, in which he played the King of the Hawkmen. I was also a big Doctor Who fan and wanted to travel through space – I used to imagine my bedroom was a TARDIS."
TVSW: Were you ever hospitalised as a child?
DW: "No, but when I was in my late 20s, I got hepatitis and I was put in a hospital isolation ward for a week. I based the character Tootsie in The Midnight Gang [played by Jocelyn Jee Essien] on the lady who came round with the breakfast trolley!"
TVSW: Do you enjoy Christmas?
DW: "I like it, but the build-up is better than the actual thing! You think it's going to be all snowy and like Victorian times, and then on Christmas Day it's raining and you are stuck indoors all day. But having a child has made me realise that it's all about him being happy."
TVSW: Does your son Alfred read your books?
DW: "I tend to let him decide what stories he wants to read. Otherwise he'll be in therapy one day saying: 'My dad only let me read his own stories!'"
TVSW: What do fans of your books ask you about when they meet you?
DW: "They tend to ask me: 'If you weren't an author, what would you be?' They also want to know about Simon Cowell, and whether my characters are based on real people. I meet lots of kids who want to be writers, which is lovely."
TVSW: What would you like for Christmas?
DW: "My number-one present would be a first edition of an old book by Roald Dahl or Ian Fleming."
The Midnight Gang airs on Boxing Day at 7.30pm on BBC1
Get the What to Watch Newsletter
The latest updates, reviews and unmissable series to watch and more!
Ian writes about TV and film for TV Times, What's on TV and TV & Satellite Week magazines. He co-hosts the weekly TV streaming podcast, Bingewatch.