Death in Paradise star Don Warrington: I sometimes guess the murderer!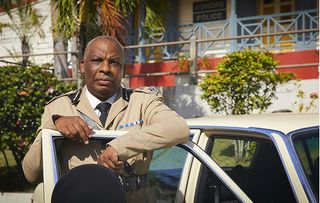 (Image credit: BBC/Red Planet Pictures/Denis Gu)
Underneath that stern look, the Commissioner is a bit of a softie!
Death in Paradise star Don Warrington, who plays the gruff but loveable Commissioner, has revealed that he sometimes works out who the murderer is!
While his character Selwyn Patterson tends to leave the crime-solving to DI Jack Mooney and his team, the 67-year-old actor has revealed that he takes a crack at the cases - and even gets it right at times!
"Yes sometimes I do! Sometimes you can go, oh it must be that person but it's a matter of deduction really. You know it can't be that person so then I have a think and go 'oh it's got to be that person," reveals Don.
Of course, Don has been with the show since the start way back in 2011 - Danny John-Jules, who was also there at the beginning of Death in Paradise, has now left.
Fans have noticed the Commissioner has softened over the years. "I've enjoyed trying to give him softer relationships with everyone involved. There are times when he's very stern with the police team but he also employs his own style of tactic to get his point across."
And there's a new development for the Commissioner in this series as his niece, Ruby, joins Jacks team.
"Commissioner Selwyn is a very indulgent uncle. He thinks that Ruby is very good and has raw talent but she has a few lessons to learn which she will be taught by Jack."
He adds: "To some extent, the commissioner is keeping a closer eye on Jack to make sure that he teaches Ruby the right lessons."
The one drawback of playing Selwyn for Don is that he has to wear the Commissioner's outfit!
"It's very hot, especially in costume as it's a full police commissioner outfit. I get very hot indeed."
Death in Paradise returns this evening on BBC1 at 9pm.
Get the latest updates, reviews and unmissable series to watch and more!
Thank you for signing up to Whattowatch. You will receive a verification email shortly.
There was a problem. Please refresh the page and try again.