Deepika Kumari - star of Ladies First - 'Without archery I would have been married off'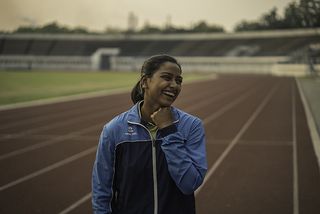 World class Indian archer Deepika Kumari reveals her incredible journey from suffering to success in Netflix documentary Ladies First
Not all heroes wear capes. Deepika Kumari, however, does shoot arrows. We talked to accomplished Indian archer Deepika Kumari, who features in Netflix documentary Ladies First, about how she escaped a childhood of encircling poverty and became a world class archer.
Yet that wasn't the end of Deepika's inspirational story. Having reached the dizzy heights of international achievement and consequently becoming honoured by her country, Deepika's game began to falter. And so a new battle began…
Here Deepika, 23, talks to TV Times about her highs, lows and hopes for the future
Why did you decide to make the film now, at this point in your career?
"A lot of girls, especially in India, can have big dreams and are very talented, but are held back for many reasons, including poverty. Because I've broken boundaries I want people to be motivated by my story; to be inspired to stand up to the prevailing norms that hold women back in our culture. Basically, if I can do it, they can do it too!"
What attitudes in India are preventing women from reaching their potential?
"In India in the cities a lot of change has happened because they are very modern. As you go away from the major cities to small towns and villages, they way people think is still very out-dated. Women and girls, in some places, are still considered the property of their fathers until they become married, and even education for girls is not suggested. They want them to stay home and cook and clean, so going to school is an issue. They treat girls as a burden because the prevailing thought in these small communities is that a boy is going to work and earn money for the family, whereas the girl is going to get married."
If you hadn't discovered archery do you think life would have been very different?
"My parents still tell me that if I wasn't successful in sport they would have gotten me married off. Other girls in my family such as my cousins, who are younger than me, have already been married for several years and have children, because that's the norm in the village I'm from." [Deepika's family are from Ratu Chati, a village outside of Ranchi]
Is the attitude to women playing sport changing in India?
"For a girl to be out playing means you are bringing up your daughter badly and corrupting the culture. To be seen out playing, that's a thing for boys. I think not celebrating education forces people further down the ladder."
How did you come to learn about archery and be involved in this world of sport then?
"When I was 12 years old someone told me there was a hostel where girls from villages, if they got accepted into this hostel, were given one meal a day. I didn't really know much about archery but I'm the eldest of three children and my parents were poor, so I wanted to be one less burden on my family."
Did the archery academy accept you straight away?
"When I went to the archery academy they didn't accept me so I begged them to please give me a chance and, if in three months, I wasn't good enough they could throw me out. In those three months I slowly started loving the sport and delivered results. And four years from there I became number one in the world."
Why did they reject you at first?
"When I first tried out I was so weak and malnourished the [arrow] only flew about a metre away from me. They thought there was no way this girl is strong enough to do this." [Deepika first entered the Arjun Archery Academy and later joined the Tata Archery Academy]
We see in the documentary that you faced deep disappointment in London 2012 and Rio 2016. It must have been heart breaking…
"When I lose at the Olympics and I come back home so many people ask me 'You win so many other top tournaments such as World Cups, and the Common Wealth Games. Why do you keep losing at the Olympics?' and I hate that – it really breaks me. But then I guess the people asking me don't understand that the Olympics are a different circuit. They don't understand what it takes."
How did you manage to get through that and motivate yourself to carry on with competitive training?
"I motivate myself by remembering that, when I was 17 years old and became the world number one, everything was new for me. I didn't know what was going on so I was like a child in a new world. Everything was exciting, I was having fun and I wasn't stressed. I was shooting arrows without the worries of the world on my shoulders. Becoming a professional and understanding more about the sport brought its own pressure. So I get motivated by reminding myself that, when I was 17 I did it, and I tell myself I'm going to do it again! That's what keeps me going."
What do your parents think?
"My parents support me, which is very unique in India. They say not to worry about what the world says. That if I keep working hard, you're going to win one day. I get a lot of motivation from that because I know I'm lucky to have parents who support me. Not many women in India do. I don't take that for granted at all."
You're training at the minute. What are your hopes for the 2020 Olympics in Tokyo?
"The thing that was lacking [in the past] was a mental coach, which the Indian women's team never had. All the other archers who compete at the Olympics have this psychological training. But recently I got a mental coach and it's changing the way I'm planning everything. It's been very helpful for me."
What is the best advice you've received?
"The best advice I've ever been given is from my coach, who advised me to always be humble. He told me if you win a World Cup or a World Championship enjoy the moment, that's what you should do. But the next day is a new day and you're starting again from zero. Never let success go to your head, because that's the end of you. And players who are junior to you, show them respect and let them learn from you. Remember you could very easily lose tomorrow, so stay focused and fight for the next tournament."
Outside of archery, what do you do to relax and have fun when not training?
"I love listening to music and, once in a while, whenever I get the time, I love to watch movies. But the scheduling is gruelling. We're up at 4am, on our feet for eight hours a day, training through scorching heat in the summer, almost-freezing temperatures in the winter and during the rain of the monsoon season, so whenever I get a moment I like to sleep!"
Ladies First is on Netflix from March 8th
Get the latest updates, reviews and unmissable series to watch and more!
Thank you for signing up to Whattowatch. You will receive a verification email shortly.
There was a problem. Please refresh the page and try again.