Doctor Foster finale divides viewers but will it back for series 3?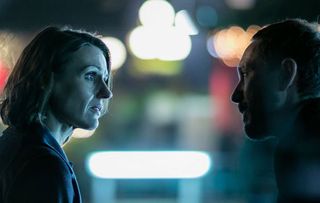 Doctor Foster viewers have been divided over the final episode of the second series and there is speculation as to whether it will return
Doctor Foster viewers have been divided over the final episode of the second series, with some calling the ending an "anticlimax". But can it return?
Gemma Foster (Suranne Jones) and her ex-husband Simon (Bertie Carvel) both survived, despite Simon trying to take his own life.
But the series ended with an unexpected plot twist, as their troubled teenage son Tom (Tom Taylor) ran away, the pressure of his parents' constant warring having become too much for him to deal with.
For some fans, the lack of a death in the Doctor Foster finale was a disappointment.
One viewer wrote on Twitter: "Five whole episodes and not one main character died. Anticlimax." Meanwhile another viewer said they thought the ending was "an absolute cop out".
One suggested that "Tom should have died at the end" of the series, adding: "Harsh but would make for a far better finale. Only explanation I can think of is… series 3?"
For others, the dramatic scenes and possibility for a third series were welcomed with open arms.
"Excellent finale to #DoctorFoster," one fan wrote. "Final shot made it feel like Tom really *was* missing. Superb acting by all, will miss dearly."
Another said they were "broken" after the final episode and asked for more, adding that the cast have "been so amazing, gimme S3".
Creator Mike Bartlett has hinted that a third series could be possible.
"You can see the ending," Mike old RadioTimes.com. "Tom's gone. So there's a question mark. In a way that is a question mark at the end. And I think it works as an end to this series and all the things that have been going on. Clearly there's potential there. But obviously there would have to be lots of conversations. We need to talk – Suranne and I and lots of other people need to have lots of conversations and we'll see."
However, the BBC seemed to imply on Twitter that series two could mark the end of the drama.
Whatever the future of the show, the fifth and final instalment of Doctor Foster was filled with plenty of dramatic ups and downs, with Simon nearly throwing himself into a busy road before Gemma talked him out of it.
After an awkward meal, Simon returned to his hotel room, where he almost succeeded in ending his life once again, this time with drugs given to him by Gemma. But she later begged him not to take his life and gave him a small photo frame with pictures of herself and Tom together in happier days.
Leaving the hotel, Gemma learned that Tom – who had been waiting in her car outside – had vanished and, in a message left on her voicemail, he announced he was leaving forever because he has "had enough" of her and Simon.
"You won't see me again, it'll be better," he said.
Devastated at her son's departure, Gemma was seen trying to move on with her life without him, before speaking directly to the camera to tell Tom he is welcome back whenever he wants to return.
Get the latest updates, reviews and unmissable series to watch and more!
Thank you for signing up to Whattowatch. You will receive a verification email shortly.
There was a problem. Please refresh the page and try again.