Blind Doctor Who actress Ellie Wallwork: 'Being blind doesn't have to hold you back'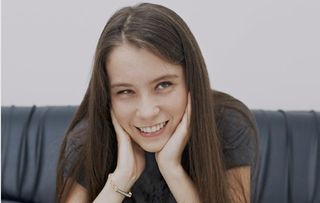 Ellie reveals all about her terrifying role in this Sunday's Doctor Who...
Doctor Who actress Ellie Wallwork has been blind since birth, but the 18-year-old refuses to let her disability stand in her way. As a talented singer-songwriter and a promising actor, her CV includes independent films and mainstream hits such as Call the Midwife.
On Sunday, she guest stars in an episode of Doctor Who that looks set to send shivers down the spines of children and parents alike…
The adventure begins when the TARDIS touches down on the edge of a fjord in present-day Norway, where the Doctor and the gang discover a boarded-up cottage and a blind girl named Hanne, played by Wallwork, in need of help.
We asked Doctor Who guest star Ellie Wallwork to tell us more...
What was it like to be in Doctor Who?
Ellie Wallwork: "It was amazing. I was never really a fan, but my dad's been a massive fan ever since he was a kid. He can't wait for Sunday night. When he found out that I had an audition, he didn't speak for a few minutes because he was so excited. Then when we found out I'd got the part we danced around the living room, screaming."
[Everything you need to know about the New Year's Day special]
We hear this is a scary episode…
EW: "There are definitely a couple of scary monsters, but not only is it physically scary, it's psychologically gripping – there are quite a few themes that you wouldn't think would be tackled in this kind of episode. It will surprise people."
What can you tell us about Hanne?
EW: "The Doctor finds her abandoned in this cottage. Her dad has left her alone for a few days, but he's been gone longer than expected. There's a monster in the woods that howls at night, which is terrifying for her because she thinks it's taken her dad away. The Doctor and her friends want to help her get him back, but they soon realise the forces in the woods are far darker than they ever could have imagined."
This series features lots of people with disabilities and from ethnic minorities. Do you think that's important?
EW: "It's really important because these issues have always existed – it's just that they haven't been raised very often before. The more characters like mine are on mainstream TV, the more people like myself feel like they belong and that they're accepted by society."
Do you get annoyed when actors who aren't blind play blind characters?
EW: "It's really frustrating, especially when they act in a way that isn't representative, because it can actually end up being quite harmful and perpetuating loads of stereotypes. It's also unrealistic because often they play someone who's not able to do anything for themselves, which isn't representative. It's also bad because it's taking away a job from a disabled person. Hopefully this episode can show that being blind doesn't have to hold you back."
Did you meet Chris Chibnall?
EW: "We went out for drinks after we finished the episode and he was amazing. He congratulated me on my performance and I've never had such praise from anyone before. It really boosted my confidence."
Are you a Doctor Who fan now?
EW: "Definitely! I've really enjoyed this year's series and Jodie Whittaker has been amazing. I'm also trying to dip into the old episodes and catch up a bit, because I've now seen how much people love it."
Doctor Who continues on Sunday at 6.30pm.
Get the latest updates, reviews and unmissable series to watch and more!
Thank you for signing up to Whattowatch. You will receive a verification email shortly.
There was a problem. Please refresh the page and try again.