Douglas Henshall: 'In Plain Sight is an extraordinary tale and a story worth telling'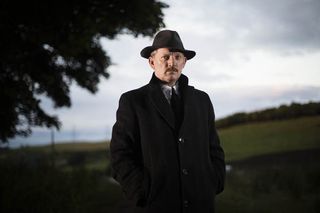 Douglas Henshall and Martin Compston star in a powerful real-life drama about 1950s Scottish serial killer Peter Manuel
Compelling ITV drama In Plain Sight, tells the shocking real-life tale of the horrific murders committed in the 1950s by serial killer Peter Manuel, played by Line of Duty star Martin Compston. The three-part series explores how, between 1956 and 1958, Manuel struck fear into the nation with his murderous spree and engaged in an intense battle of wills with determined Detective Inspector William Muncie, played by Shetland's Douglas Henshall.
Here's Douglas reveals all…
Tell us about Muncie and his obsession with Manuel… "Muncie was famous in his own right and was Scotland's premier detective for a long time. This case took up a huge chunk of his life and he was derided by some in the force because he was so obsessed with it, but he knew that Manuel was guilty and because his community was being terrorised, he needed to put him away. But Manuel was so hard to catch because he never left fingerprints so it was incredibly frustrating."
Did you know anything about the case? "My mum was about 17 or 18 at the time and I remember her saying how far that fear spread and young women were scared about going out at night. The frightening thing was though that it wasn't just about young women, there were families involved too and it was so random with no pattern."
Were you worried about dramatising such horrifying crimes in In Plain Sight? "There was such an amount of hurt for a whole community for such a long time but I'm pleased that this is really a tribute to the victims and that it doesn't glorify or glamorise Manuel's violence. I feel a huge responsibility to the victims and we wanted to try to be as truthful and honest and caring and compassionate as we can."
Was it strange playing another cop in In Plain Sight after playing Jimmy Perez in Shetland? "My concern was how can I make it different? I didn't want to just be Jimmy Perez with a moustache and another haircut but Muncie was interesting. His daughter remembers a man who was funny and personable and who didn't bring his work home with him. I also read a book that Muncie wrote called The Crime Pond which was really interesting. He was a keen bird watcher and fisherman and his analogy for his patch was his pond and he compared Manuel to a lone heron, which I liked."
Have you enjoyed getting into the 1950s mindset? "Well having the moustache helps for the period more than anything else, and the same with my hair. It is a great time for clothes and I think we've done that really well - it certainly looks very much like the period but not in that way where sometimes you watch costume drama and everybody looks like they have just come out of the laundry, it looks like it is worn in which I like."
What was it like working with Martin? "I knew of Martin but I hadn't met him until we started doing this - he is a such a nice easy-going guy, but the scenes that we've got together are quite loaded, there is a real progression in the mood of the interview scenes."
In Plain Sight begins on Wednesday 7th December on ITV at 9pm
Get the latest updates, reviews and unmissable series to watch and more!
Thank you for signing up to Whattowatch. You will receive a verification email shortly.
There was a problem. Please refresh the page and try again.