Edgar Allan Poe's Black Cats | Two classic Euro chillers claw their way onto Blu-ray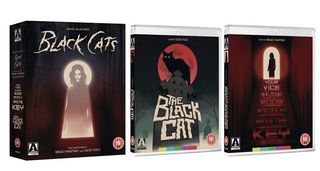 Edgar Allan Poe's celebrated story The Black Cat has provided the inspiration for numerous films over the years. But few adaptations are as stylish as those offered up by the twin Italian titans of terror, Sergio Martino and Lucio Fulci.
In Martino's classic giallo Your Vice is a Locked Room and Only I Have the Key, teacher Oliviero (Luigi Pistilli, A Bay of Blood) finds himself under suspicion for murder when one of his students and mistress is found brutally murdered.As more bodies start to pile up, the arrival of Oliviero's attractive niece (Edwige Fenech, Five Dolls for an August Moon, All the Colours of the Dark) brings with it complications of its own.
In The Black Cat, from that other Godfather of Gore, Lucio Fulci, Scotland Yard Inspector Gorley (David Warbeck) find himself summoned to a sleepy English village to investigate the recent murder of a young couple. With no obvious signs of entry at the murder scene, Gorley is forced to start considering the possibility that his suspect may not be human...
Finally together on Blu-ray from Arrow (12 October) and in stunning new 2K restorations from the original camera negatives, fans can enjoy the double-dose of terror that is Edgar Allan Poe's Black Cats Italian-style!
LIMITED EDITION CONTENTS:
• New 2K restorations of the films from the original camera negatives
• High Definition Blu-ray (1080p) and Standard Definition DVD presentations Original Italian and English soundtracks in mono audio (uncompressed PCM on the Blu-ray)
• Newly translated subtitles for the Italian soundtracks
• Optional English subtitles for the English soundtracks
• Interview with director Sergio Martino
• Dolls of Flesh and Blood: The Gialli of Sergio Martino a visual essay by Michael Mackenzie exploring Sergio Martino's contributions to the giallo genre
• Stephen Thrower, author of Beyond Terror - The Films of Lucio Fulci, on The Black Cat
• New cover artwork by Matthew Griffin
• 80-page collector's book featuring new writing on the films, Poe s original story and more, illustrated with archive stills and posters
Get the latest updates, reviews and unmissable series to watch and more!
Thank you for signing up to Whattowatch. You will receive a verification email shortly.
There was a problem. Please refresh the page and try again.