Emily Watson: 'A Song For Jenny is the most moving drama I've ever done'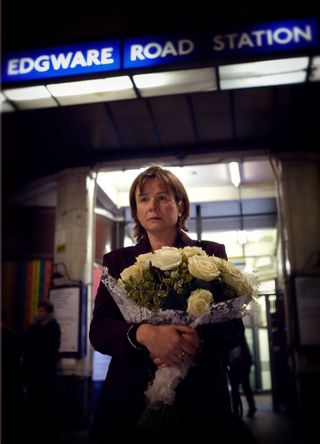 (Image credit: BBC/Rober Viglasky)
Emily Watson stars in BBC1's emotional one-off drama A Song For Jenny (Sunday, 9pm) about awful true-life events from 10 years ago.
The twice Oscar nominated actress plays Julie Nicholson, an ordained priest who lost her daughter on July 7 2005 (opens in new tab) in the deadly terrorist attacks on the London transport system.
Here, Emily (opens in new tab) tells What's On TV why she thought it the most moving drama she's ever filmed…
What was it that drew you to this project?
"It was more like a call to duty in a way. I'm a Londoner and I'm sure everybody has their memory of that day, how it unfolded and how desperately sad and scary it was, so when this came along it felt very daunting because of Julie's journey. She's an extraordinary person because her emotional response to what happened was so unflinching. That made it an amazing challenge to do, but at the same time it was quite daunting. Everybody involved in the drama felt it was an honour to be doing."
Where were you on July 7 2005?
"I was seven months' pregnant and about to go out to get on the Tube to visit a friend who was on maternity leave. I was about to leave the house around 9.30am, but had put the telly on and just heard and watched it all unfold. I remember there was so much confusion and you couldn't use your phone, and then there was the moment where I remember hearing the news about the Tavistock Square bus and there was just a strong and awful moment where you realised this was a deliberate act. I remember going on the Tube the day after and it being pretty deserted and being that pregnant I was feeling really vulnerable."
In the drama you see the Nicholson family's agonising wait that went on for days…
"I think she knew on a very primal level that Jenny was gone. She took the decision to find out all she could because she didn't want to feel she'd abandoned her daughter in her hour of need. I think Jenny's body was in the tunnel for 52 hours or something unattended and there was a very long period of time before the police were able to deal forensically with the scene.
"Julie felt she wanted to go as close as she could to witnessing everything and seeing everything and being there for Jenny as closely as she could. She wanted to see Jenny's body, look at the photographs and visit the place where her daughter lost her life. There's a powerful scene where Julie lays flowers at a cordoned-off Edgware Road station."
How does this compare to other films and programmes you've done?
"In a way I think this was the most moving drama I've done. Everything's different and I've done a lot of emotional things in the past, but there was something so unutterably unbearably moving about this, just the thought of what happened to Julie and her family is heartbreaking."
Were you emotional when filming this drama?
"The story pretty much runs from the morning of the attack to Jenny's funeral, and shows what happens to Julie and her family in between, although there are some flashbacks to their happy life before. So yes it was emotional and very tough, but of course it was nothing compared to the horror of the real thing for the families involved."
http://www.youtube.com/watch?v=3jN7i308xnk
Did you feel any added pressure that you were depicting a true story and a real person who'd had such a terrible loss?
"Oh yes, and when we'd finished filming, I wrote to Julie and I said I don't know how it's going to end up, but this is what I learned about you and your situation and how it made me feel. And that sort of situation elicits from you a response where you can't do anything except do your best. Yes it was really scary, but you just had to go for it. It demanded things of me that you couldn't say no to in a way."
Have you met Julie?
"Yes, she was incredibly open with me and told me very intimate things in a very beautiful way. She's a very creative, artistic soul in a way, and very empathetic, so I just felt like we had a connection and I asked her a lot of really direct questions and she completely answered them and she really gave of herself.
"The process of going from her book to screenplay was terrifying for her because it's such a personal story, but I think she's very happy now with what we did. She's seen A Song For Jenny and she's really happy. She wanted to come on set, but the producer very wisely kept her away. It could have been very difficult for her, but impossible for us. I would have found it impossible."
As a mum yourself how difficult was it to switch off after filming?
"I deliberately made the choice not to go home. I did go home at the weekend, but I had to be very careful to put it all down and decompress. Contemplating the loss of a child isn't something you ever want to have to do and we were doing it on a daily basis and in that situation you're doing several takes and repeating it. There was a day when I got up in the morning and I was physically ill because it had got inside me somehow, but I then finished playing the role and left it behind me…"
What did you do to switch off while you were away from filming?
"I paint, not in any way that I'd let anybody look at, but it's just patterns, colouring and drawing. It's just a way of helping your brain not get overwrought."
Was this an important story to tell?
"Yes I think so, and kind of uniquely because of Julie. Although the wider political religious ramifications of what happened on that day are immense, but those people to their mind were probably in some way motivated by religion, she was a priest and she is no longer a priest now and it's something I've thought about – being a Londoner being someone who lives in a society like this, just getting up in the morning and going to work is kind of an act, not of love, but co-operation on a massive scale. You have to join in. For it to work you have to get up every morning and join in.
"And this act was a total rupture of that act of joining in and yet even though she lost her faith she came through it and chose love, she chose to continue to love the family that she still has, but she chooses life and she chooses love and not hatred which I think is better than having her as a priest, that's my opinion.
I'm a huge fan of television so I really have found the perfect job, as I've been writing about TV shows, films and interviewing major television, film and sports stars for over 25 years. I'm currently TV Content Director on What's On TV, TV Times, TV and Satellite Week magazines plus Whattowatch.com. I previously worked on Woman and Woman's Own in the 1990s. Outside of work I swim every morning, support Charlton Athletic football club and get nostalgic about TV shows Cagney & Lacey, I Claudius, Dallas and Tenko. I'm totally on top of everything good coming up too.
Get the latest updates, reviews and unmissable series to watch and more!
Thank you for signing up to Whattowatch. You will receive a verification email shortly.
There was a problem. Please refresh the page and try again.