Emmerdale star Fiona Wade reveals the real reason she quit her role as Priya
Emmerdale star Fiona Wade, who plays Priya Kotecha, opens up about her decision to quit the role.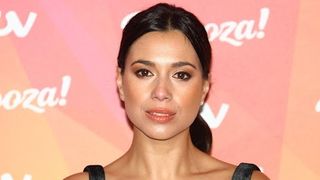 (Image credit: Alamy )
Emmerdale fans will bid farewell to Priya Kotecha next week, when the wedding planner is offered a new job in London.
But this being soapland, there's plenty of drama on the cards before Priya packs her bags.
During a promotional event for Take A Vow in next week's Emmerdale, a veil catches alight and the single mum suffers flashbacks of the 'maize maze' fire that left her scarred for life.
When a business contact then offers her a position in the capital, Priya accepts it, keen for a fresh start. But she's unaware Leyla has previously been asked, and this leads to a falling out between the two women.
Worse is to follow when David discovers Priya and their daughter Amba will be moving away. Devastated at the thought of losing his little girl, he kidnaps Amba from the village.
Actress Fiona Wade talks about Priya's eventful last week, and why she has decided the time has come to leave the Dales…
Priya is about to depart. How do you feel about leaving the soap?
Fiona: "I have been at Emmerdale for 11 years, and it was one of the hardest decisions I've had to make. Leaving my Emmerdale family is a big thing, and it wasn't easy filming my last scenes. When you've been somewhere for that long and that's your every day, it's hard and feels sad. But as every actor knows, you need to challenge yourself, and that's very important, too."
Priya was memorably trapped in the 'maize maze' fire back in 2021. How triggering is it for her when a veil catches fire at the Take a Vow event?
"It's hugely triggering. The way she reacts to it — her body and her mind — takes her straight back to the fire. She freezes and has a breakdown, which takes her by surprise because she feels she's done so much work on herself after what happened."
Is this what makes her want to leave the village?
"I don't think this is what triggers it. I think there are so many things that lead up to someone deciding that they need to move on, and I think when someone offers her a job, that is the trigger. There are a lot of memories there, though, and that does help with her decision."
Does she feel guilty that she has taken the opportunity away from Leyla?
"She wasn't aware that Leyla was offered the job. However, she does feel that Leyla hasn't been treating her very well and their relationship is strained. Priya has been running the business for Leyla with no thanks.
"Had she known Leyla had been offered the job, she would have been more considerate. But the way Leyla reacts to her accepting the job makes Priya think this is her time, and she's going to grab the opportunity. I think she feels empowered rather than guilty because of the way Leyla has treated her."
Tell us about how David reacts to the news…
"He doesn't react very well. He's been going through a really difficult time and thinks it's another nail in the coffin that she's taking his daughter away. I think Leyla mentions it to David before she can. He comes to Holdgate very angry that Priya is doing this. She holds her own, though."
How does Priya react when she realises David has kidnapped Amba?
"David has taken Amba on a day trip. Priya realises what has happened when she goes to the shop and asks when they're due back, and she realises no one has a clue and no one can get hold of David.
"Priya panics because he could be anywhere with her daughter, and Amba is everything to Priya. She freaks out and wants to call the police. Pollard and Jacob want to protect David because he has already been in trouble with the police, and I think they both really believe that he hasn't done this. But Priya, with her motherly instincts, knows something isn't right."
You've notched up 11 years on the show - what has been your favourite storyline?
"I've had so many wonderful storylines, such as the eating disorder and the accident in the fire. They've all been incredibly rewarding to play. I can't pick a favourite, but the eating disorder one was complex and ongoing and was so interesting to research.
"It was a great layer for my character to have. She's such a glamorous and confident character, but it showed her vulnerability, insecurities and complexities."
Did you have a good leaving do?
"I had such a lovely leaving do. I had a fabulous drinks party which Rebecca Sarker (Manpreet) and Chris Bisson (Jai) helped organise, and I got some gorgeous gifts. It was amazing to have so many of my wonderful friends from the cast and crew join me."
What is your best memory?
"Every day has been a memory. My best memories are playing this incredible part every day, wearing the amazing costumes, and getting to be so glamorous. We've had so many giggles and laughs.
"But I can't not mention the fact that Emmerdale brought me my husband (actor Simon Cotton). I met him there (Simon played Home Farm client Hugh Bryant in 2017) and that's very special. That has been the greatest gift."
What is it that you love about Priya?
"She is a sassy, strong independent woman. She's a single mum, a businesswoman. She's edgy and fun, and she has guts.
"Getting to play someone who is that sassy and cool and glamorous, but who also has all of these complexities and layers makes the character so much more interesting and relatable. I've loved playing her and she's been so much fun!"
Emmerdale airs weeknights at 7.30 pm on ITV, with a hour-long episode on Thursdays — see our TV Guide for full listings. You can also catch up on ITVX.
Get the latest updates, reviews and unmissable series to watch and more!
Alison Slade has over 20 years of experience as a TV journalist and has spent the vast majority of that time as Soap Editor of TV Times magazine.
She is passionate about the ability of soaps to change the world by presenting important, issue-based stories about real people in a relatable way.
There are few soap actors that she hasn't interviewed over the years, and her expertise in the genre means she has been called upon as a judge numerous times for The British Soap Awards and the BAFTA TV Awards.
When she is not writing about soaps, watching soaps, or interviewing people who are in soaps, she loves going to the theatre, taking a long walk or pottering about at home, obsessing over Farrow and Ball paint.
Thank you for signing up to Whattowatch. You will receive a verification email shortly.
There was a problem. Please refresh the page and try again.