Ewan McGregor on RAF at 100: 'They even let us do a practice dogfight'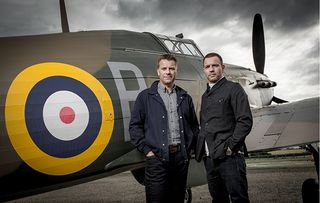 (Image credit: BBC/Lion TV/Freddie Claire)
Ewan McGregor takes to the skies in RAF at 100, which is on BBC1 this Sunday at 8.30pm
Ewan McGregor sits in RAF Lossiemouth on the coast of Scotland, undergoing a medical examination that will determine whether he is fit to fly in a £60m Typhoon fighter jet at twice the speed of sound.
The actor looks nervous, even after being told he has passed the test.
"I went up in a Tornado a few years ago and I was sick," says Ewan. "Let's hope that doesn't happen again – this time it'll be on camera!"
The Perth-born actor (whose credits include Star Wars, Moulin Rouge! and, more recently, TV's Fargo, and his older brother Colin will take to the skies as part of a special BBC1 film marking the RAF's 100th birthday. It's a subject close to their hearts, particularly for Colin, who was a fighter pilot in the air force for 20 years.
During the 90-minute documentary, the siblings trace the history of the RAF from its humble beginnings in the final months of World War One to its key role in the Battle of Britain, and beyond.
TV Times caught up with Ewan McGregor and Colin to find out more about RAF at 100
How much of a thrill was it to fly a Typhoon?
Colin McGregor: "It was great because they were only introduced to the RAF a few years before I retired in 2007, so I had never flown one. They're so much more agile than the Tornados I flew. Ewan and I both went up with two top fighter pilots and when we were safely in the air they let us take the controls. It was a special moment."
Ewan McGregor: "They even let us do a practice dogfight. The McGregor boys taking each other on at 20,000ft – who would have thought it?"
Colin: "The Lossiemouth station commander was very impressed with Ewan's flying skills – he might have made a good pilot!"
Have you always loved planes?
Colin: "There were lots of Airfix models in our house and our dad was a big fan of flying as well. He used to take us to airshows and that's where I caught the bug, but Ewan really enjoyed it as well."
You also meet one of the last surviving Battle of Britain pilots, 96-year-old Geoffrey Wellum (pictured with Prince Charles)…
Colin: "Geoffrey is an extraordinary man. He was only 18 when he started flying Spitfires during the war. It was very emotional for him because he lost so many great friends."
Ewan: "Those days are so vivid and fresh in his mind. It's almost as if he's lived his whole life in that period and nothing since then has really come close to it. He had some remarkable stories."
Did you fly in any other aircraft during this film?
Colin: "We went up in a replica of a World War One plane, which was a very different experience…"
Ewan: "They were so slow and you feel so vulnerable as you have no protection at all. It was a while before they added machine guns, so at first, pilots just had a pistol to use against the enemy. The men who flew those planes were so brave."
So, now that Ewan has piloted an RAF fighter jet, do you think he'll return the favour and get you a part in one of his films, Colin?!
Colin: "He actually got me a small role in Trainspotting 2 – I was an extra in the background when they're on the tram in Edinburgh. I didn't have a line because I wanted to leave the real acting to him!"
Geoffrey Wellum pic: REX/Shutterstock
Get the latest updates, reviews and unmissable series to watch and more!
Thank you for signing up to Whattowatch. You will receive a verification email shortly.
There was a problem. Please refresh the page and try again.