Ewan McGregor stars in Fargo: 'Sometimes I feel I'm channelling Trump'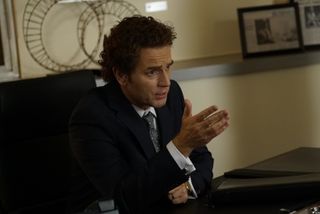 (Image credit: MGM)
As Fargo returns to Channel 4 on Wednesday with a brand new story, Ewan McGregor talks about his dual role in the deliciously dark drama
Following two addictive, award-winning seasons starring Martin Freeman and Kirsten Dunst, Minnesota murder-mystery Fargo returns to Channel 4 on Wednesday after a two-year hiatus with brand new characters, fresh crimes and Ewan McGregor taking on not one, but two lead roles.
With the action set in 2010, the 10-episode run sees the Trainspotting star play warring brothers, Emmit and Ray Stussy, alongside a new-look cast including Harry Potter actor David Thewlis and The Leftovers' Carrie Coon.
Emmit is a successful real-estate magnate, while Ray is an eternally down-on-his-luck parole officer, who resents his older brother for convincing him to swap the items they inherited from their father, leaving Emmit with a valuable stamp collection and Ray with a now-rusty red Corvette.
But when Ray asks his brother for money to buy his parolee girlfriend, Nikki Swango (Mary Elizabeth Winstead), an engagement ring, Emmit's refusal triggers Ray to concoct a simple plan to steal a stamp – a scheme which goes drastically awry and sparks a trail of bloodshed across the wintry Midwest.
We spoke to Ewan, 46, about his dual roles…
Why did you want to get involved in Fargo? "I hadn't seen the first two seasons because I thought it was a silly idea to make a TV show based on a much-loved movie. I just didn't get it. But I was talking to a producer about another idea for a TV show when he said I should check out Fargo because they were casting season three and wanted one actor to play two brothers."
Did you end up watching the show? "I went home and watched the first two seasons out of order by accident, but I ate them up. I thought they were incredibly bonkers, violent and felt so different from the original film but still very Fargo-esque. Soon after I met with creator Noah Hawley, who gave me the script for season three and I loved it."
https://youtu.be/x7NB0YQBQWI
Did the challenge of playing two very different brothers excite you? "I really wanted to create these two characters, and I fell for both Emmit and Ray in different ways. I love Ray; he's such a dude! But he's complicated, too. He's mean to the convicts he works with, but he's a completely different person with his girlfriend, Nikki Swango. He's madly in love with her, yet they're such an oddball couple. Is she only with him because he's her parole officer, or is it for real? I love how ambiguous their relationship is."
How different is Emmit [above] to Ray? "Emmit is colder and not as heartfelt as Ray. His whole life has been about making money, and in this time of conservatism and the Donald Trump era, it's been interesting to play someone like that. Sometimes I feel I'm channelling Trump. As the series progresses and Emmit's life starts to fall apart, he's quick to blame others, just like Trump does. He's thin-skinned, too, but it's fascinating to play Emmit for those reasons."
You're almost unrecognisable as Ray [below]. How did you transform yourself? "There were many conversations with head of make-up Gail Kennedy. We used prosthetics to cover my cleft chin and to give me a double chin, and to widen my nose. Because he's so down on his luck, it felt right to give him long hair and a receding hairline."
He's quite a bit bigger than you too… "I wore belly padding most of the time for Ray, but I had to put on weight for a bathroom scene in the first episode because you see my body. It's interesting to see how shallow people are on social media, though. My pictures had comments like, 'Oh, they've made you so ugly!' But I say don't judge a book by its cover. I think he looks amazing."
It wasn't such a tough transition for Emmit, then? "Well, because I got fat for Ray, the only solution was to wear Spanx for Emmit, so I had this special Spanx T-shirt, which was incredible. I'll definitely be wearing it when I'm older. It sucks everything in, so it makes you feel different and changes your posture, so I automatically felt like Emmit."
The series is set in Minnesota but filmed in Calgary in Canada. How did you cope with the extreme cold? "We started shooting in early January and it was -29° Centigrade, so properly freezing. But the crew knew how to deal with it and they looked after us."
Had you been there before? "I have a funny relationship with the place because I was almost killed there when I was on my motorbike filming the Long Way Round series. I was rear-ended by a teenage kid in the fast lane on the highway, and if he hadn't hit me square in the back of my bike, I would have gone straight under his car. It's the nearest to death I've ever been."
Get the latest updates, reviews and unmissable series to watch and more!
Thank you for signing up to Whattowatch. You will receive a verification email shortly.
There was a problem. Please refresh the page and try again.