Extraterrestrial (2014) | DVD review - It's Close Encounters of the Scary Shocker Kind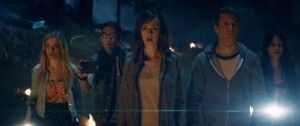 Whilst out at her family's vacation cabin with a group of friends, April (Brittany Allen (opens in new tab)) is on the verge of splitting with her devoted boyfriend Kyle (Freddie Stroma (opens in new tab)) when a spaceship crashes in the nearby woods. After finding strange footprints at the crash site, the gang come under attack by beings from outer space. Meanwhile, Sheriff Murphy (Gil Bellows (opens in new tab)), who is investigating a series of bizarre disappearances in town, uncovers evidence that his own missing daughter may have been abducted by the extraterrestrials. But why?
THE LOWDOWN This slick Canadian teen sci-fi shocker from the Vicious Brothers fuses an emotional teen relationship drama with a Cloverfield in the woods meets The X-Files scenario, complete with requiste scary Roswell-styled aliens and a government cover-up.
It's a heart-racing, fast-moving thrill-ride as the film's two key plot-lines - the kids vs the aliens and the sheriff investigating – converge headlong over the course of one stormy night, resulting in the teens' abduction onboard the alien mothership… READ MORE... (opens in new tab)
Extraterrestrial is available to download from 9 March and released on DVD and Blu-ray from 16 March
***WIN AN EXTRATERRESTRIAL TEE-SHIRT AND DVD*** Click on the sidebar (opens in new tab) link to enter our competition NOW!
http://youtube.com/v/nWj_SuD6KjA
Get the latest updates, reviews and unmissable series to watch and more!
Thank you for signing up to Whattowatch. You will receive a verification email shortly.
There was a problem. Please refresh the page and try again.