EastEnders fans commend Ruby Allen actress Louise Lytton for harrowing rape storyline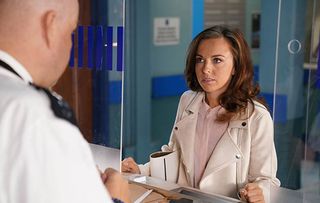 (Image credit: BBC)
The actress touched viewers with her emotional speech
EastEnders fans were left reeling after last night's show, which saw Ruby Allen attempting to get revenge on Ross Swinden by castrating him.
Ruby - played by actress Louisa Lytton - is set to go to trial to face her rapist Matt Clarkson and his co-conspirator Ross, after he sexually abused her after a high school reunion.
Taking matters into her own hands however, Ruby drugged Ross before dragging him into a living room lined with black bin bags as she told him, "There's only one thing I can do to make sure you never ever hurt a woman the way you hurt me."
However, she didn't manage to see her plan through, as her best friend Stacey Slater (played by Lacey Turner) and her husband Martin Fowler walked in and caught her in the act.
As they tried to talk her out of committing the crime - with Stacey bringing up her own conviction for murdering Archie Mitchell in 2009 - Ruby burst into an emotional speech, which included some very shocking statistics on rape.
"No one will believe me. It's my words against his and Matt's. It's two against one. Those were the odds from the start," she said.
"And I can't actually prove it. How do I actually prove that I meant no and why should I have to? Isn't it enough that he used me to have sex with? Isn't it enough that I've had doctors and nurses examining my body?"
She shouted: "Do you want to know how many women that report a rape, actually get a conviction. How many men actually get found guilty because it's all online. six per cent, Martin!"
"Just under six per cent! What other crime gets those sort of stats? It don't work. It won't work. Not for women like me that drink and wear short skirts."
Within seconds fans rushed to Twitter, as they praised Louisa for portraying the harrowing storyline 'incredibly', and thanked her for delivering such important information to viewers.
"Louisa Lytton & Lacey Turner, as ever are just incredible... Ruby's speech about rape victims and the conviction rates was harrowing and sad. We need to do better #EastEnders." one wrote.
"Listening to Ruby in #EastEnders has made me cry. 6% of rapists get convicted. Y'all here [sic] that? 94% of rapists GET AWAY WITH WHAT THEY'VE DONE,' another said.
"I can understand where Ruby is coming from. Rape can cause a lot of damage for its victims/survivors, and it's such a relief that Stacey was there to stop Ruby from doing something she'd regret. Rape cases really don't get the justice they deserve and it's sickening #Eastenders" a third added.
Get the latest updates, reviews and unmissable series to watch and more!
Thank you for signing up to Whattowatch. You will receive a verification email shortly.
There was a problem. Please refresh the page and try again.