Fay Ripley: 'My Cold Feet cancer storyline's a big responsibility'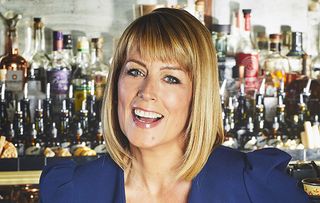 (Image credit: ITV)
Fay Ripley reveals all about why she was determined to get her breast cancer plot in Cold Feet just right
Cold Feet's Jenny Gifford (Fay Ripley) has always been the most outspoken of the comedy drama's gang of close-knit pals, so it has been heart-breaking to see the terrified mature student trying to keep the news that she has breast cancer a secret from her husband Pete (John Thomson) and her friends. But how long can she remain quiet about her diagnosis?
Here, Fay Ripley gives TV Times the lowdown on her toughest Cold Feet storyline to date…
TV Times: Jenny's keeping her diagnosis to herself, will viewers relate to that?
Fay Ripley: "I kept thinking, 'Wouldn't she tell Pete?' But I now think it's a really relatable reaction. I know way too many women going through breast cancer and they're all different. I like that she makes a choice that isn't everyone's experience. She's scared of saying, 'I've got cancer', because she has always been the strong one. Pete is like a child so she wants to put it off but it all falls apart…"
TVT: Has it been good showing a more vulnerable side to Jenny?
FR: "Definitely. The female voice is much stronger this series. Sometimes Jenny was a support system in the storylines but I'm not shy about saying, 'Come on guys, stuff happens to girls too!' This series is more balanced and has hit its stride."
TVT: Was it tough to film though?
FR: "Yes but one of the hardest things for me was that my father was in hospital and later sadly died during filming. So I was shooting in hospital at work and then going to hospital. I kept thinking, 'Please can we do a nightclub scene.'"
TVT: We're so sorry to hear about your dad. Were you daunted when you were approached with the storyline?
FR: "I was nervous that it would be done well. The difficulty in playing it is the responsibility. Members of my family and close friends have breast cancer so sadly I didn't need to do any research because it's all around. I checked in with them though. One friend is a fan of the show and I said, 'Don't watch if you don't want to,' because it's close time-wise in terms of her treatment. But she wants to see it."
TVT: Can you tease how the cancer storyline progresses with Jenny?
FR: "We want to be real so, as in life, there are no bows that are tied up by the end but there is hope because it is Cold Feet. I don't know what's going to happen if we go again, I guess we'll look at the next stage of Jenny's illness.
TVT: Would you like to do more Cold Feet?
FR: "Yes I want to do more because I love Cold Feet. I left the show during the original run because it was time to move on but now it feels like family and that's a privileged place to be and it would be sad not to revisit it. If one of us wanted to leave, we'd all march round to their house and say, 'Don't be ridiculous!' We're a force to be reckoned with."
TVT Did you watch Hermione Norris, aka Karen, play a sinister psychiatrist in Luther recently?
FR: "I don't really watch shows with cops and dead bodies but I watched that and she was brilliant. The spooky house where her character lived is at the end of my road though and every time I drive past I think, 'Is Hermione in there with some poor woman?!' I'd love to play a villain too. But Hermione has cornered the market in that steely, scary stare!"
Cold Feet continues on Monday on ITV at 9pm
Get the latest updates, reviews and unmissable series to watch and more!
Thank you for signing up to Whattowatch. You will receive a verification email shortly.
There was a problem. Please refresh the page and try again.