Cold Feet star James Nesbitt: 'This is the series where Adam grows up'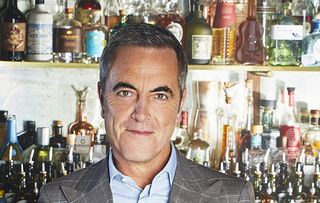 (Image credit: ITV)
James Nesbitt on the hilarity and heartache in store for Adam and the gang as Cold Feet returns
Charming IT worker Adam Williams, played by James Nesbitt, has always had an eye for the ladies in Cold Feet, but as the new series returns, it's looking like he has lost his mojo.
The last run of the ITV comedy drama saw Adam split with girlfriend Tina (Leanne Best) after cheating on her, but he's now struggling with the single life. Can he find love again?
Here, James Nesbitt gives What's On TV the lowdown on the trouble in store for Adam and his Cold Feet pals…
What's On TV: What can you tell us about the new series of Cold Feet?
James Nesbitt: "It's good this year and we are excited. It took a wee bit of time for the reboot to settle in and to find out where those characters were after all those years. Now it feels like old Cold Feet to me and like it has found its 'feet' again. It has got the right mixture and it has been such a treat."
WOTV: Is there any new romance for Adam?
JN: "There's one shocking moment that may be a springboard to something else… He's always trying for romance. I don't think he's quite flogging a dead horse, there's life in him yet! But Adam is on some continual, almost impossible quest."
WOTV: Is he contemplating changing his ways?
JN: "This is the series where he grows up and it's great seeing how he develops. There is a big eye-opener for him, which is motivated by his son Matt [Ceallach Spellman]. Adam has always made mistakes but he's always had this likeability and he had lost a bit of that so it was important to find it again. You see the vulnerability to him."
WOTV: There are also dark times ahead for Adam's friends this series, what can you tell us about that?
JN: "Some big stuff happens! Life unravels and it impacts on them all and Adam is hit badly by it. It's about life's ups and downs and it's truthful and painfully funny. Cold Feet is always addressing the questions we all ask ourselves as we get older."
WOTV: Would you like to come back for another Cold Feet?
JN: "Yes, maybe we could do another one next year and then come back to it in 10 years. You could see which ones of us have had a lot of work done!"
Cold Feet returns Monday 14 January at 9pm on ITV
Get the latest updates, reviews and unmissable series to watch and more!
Thank you for signing up to Whattowatch. You will receive a verification email shortly.
There was a problem. Please refresh the page and try again.