Fearne Cotton: 'I wanted to find out something exotic on Who Do You Think You Are?'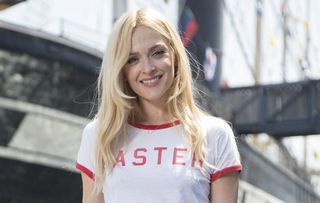 (Image credit: BBC/Wall to Wall/Stephen Perry)
Fearne Cotton's family history is about to be revealed on BBC's ancestry show, Who Do You Think You Are? We spoke to Fearne about her discoveries about her family.
Fearne Cotton was keen to find something 'exciting' in her family tree when she took part in Who Do You Think You Are?
The 35-year-old presenter was in luck as her journey uncovered two extraordinary men. While Fearne's paternal great-grandfather Evan Meredith was a Welsh miner who went to prison for being a conscientious objector during the First World War, her maternal four times great-grandfather William Gilmour was a doctor on a troop ship during the Crimean War and even dined with Queen Victoria.
Here, Fearne gives us the lowdown…
What has it been like to take part, Fearne? "A joy. It is the most amazing opportunity to make up a picture of your ancestry and where you have come from. It's is fascinating to find out people's names and dates that you kick yourself for not bothering to ask your grandparents about when they were still around."
What did you want to find out? "I was looking for something exciting. I had a lovely but ordinary childhood in North London but there were no dramas or weird stories lurking there or anything of an exotic nature so I wanted to find something like that."
How did you feel learning that Evan was a conscientious objector? "When I read his diary excerpts, I got a sense of his personality, which helped me understand his decision. He was called up to join the army towards the end of the war but by then millions had died and people were realising that it was a pointless war and Evan didn't want to kill another innocent person or be killed himself."
Did you come away admiring him? "There were ramifications because he was incarcerated but how he remained so strong and fought injustice because of what he believed was amazing. I'm close to his son Hadyn, my great-uncle, who is 94, and I visited him for the show and it was very emotional to hear the story from someone who had lived and breathed it."
William Gilmour sounded like another incredible character, what did you make of him? "He escaped the Irish potato famine and ended up as a medical superintendent on the SS Great Britain during the Crimean War. He didn't have the documentation or medical backup to do the job but he had a great success rate because a huge percentage of men on that ship came back safely, which was astonishing in those conditions, so he was a hero. He dined on the Royal Yacht with Queen Victoria but ended up working in the Victorian workhouses and dying of bronchitis at the age of 60, which was so sad."
Do you feel closer to your ancestors now? "Yes, I got to sit in William's kitchen, which was spooky, but what surprised me was how much of a connection you feel. You really go through the happy times and trauma with them. Also, I've had my ups and downs, which can't compare to theirs, but I can see how I've got my drive from them and the same strength of character and buoyancy to get out of tricky situations. It's bizarre that those traits are threaded through your DNA and I want to pass on these stories to my kids [Rex, four and Honey, one, with guitarist husband Jesse Wood]."
You've got a busy few months ahead haven't you? "Yes! I've just finished writing a follow-up book to Happy and my kids' yoga book is out soon as well as a kids' clothing line and a kitchenware range. Then I'm back on Celebrity Juice in September - nothing that Keith Lemon says can shock me now!"
Is there anything you'd still love to do? "Some documentaries. I can start doing more now because I'm coming out of the crazy vortex of the 'baby' world because Honey is two in September and Rex is going to school then too. It will be terrifying letting him go!"
Would you ever want to do something like Strictly? "I love dancing and I have always danced since I was a kid but I think with something like that you have to be a bit careful when you are known for being a broadcaster, because if you then step over the line to be a contestant, you become something else. I am sure it would be a lot of fun and I think it is good if you want to boost your profile, which I am not particularly interested in. I would rather stick to the broadcast element, so I don't think I would step into those dancing shoes!"
Who Do You Think You Are? airs on Thursday 24 August on BBC1 at 9pm
Get the latest updates, reviews and unmissable series to watch and more!
Caren has been a journalist specializing in TV for almost two decades and is a Senior Features Writer for TV Times, TV & Satellite Week and What's On TV magazines and she also writes for What to Watch.
Over the years, she has spent many a day in a muddy field or an on-set catering bus chatting to numerous stars on location including the likes of Olivia Colman, David Tennant, Suranne Jones, Jamie Dornan, Dame Judi Dench and Sir Derek Jacobi as well as Hollywood actors such as Glenn Close and Kiefer Sutherland.
Caren will happily sit down and watch any kind of telly (well, maybe not sci-fi!), but she particularly loves period dramas like Call the Midwife, Downton Abbey and The Crown and she's also a big fan of juicy crime thrillers from Line of Duty to Poirot.
In her spare time, Caren enjoys going to the cinema and theatre or curling up with a good book.
Thank you for signing up to Whattowatch. You will receive a verification email shortly.
There was a problem. Please refresh the page and try again.