Emma Willis: 'I was shocked to discover a torturer in my family!'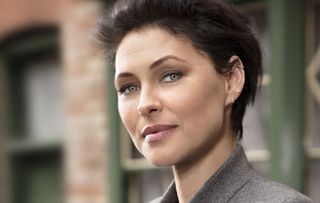 (Image credit: BBC/Wall to Wall/Stephen Perry)
Emma Willis reveals her horror at making a chilling discovery about one of her ancestors in Who Do You Think You Are?
Emma Willis had a shock in store when she took part in genealogy show Who Do You Think You Are? and discovered that in 18th century Ireland, Protestant landowner Richard Fowler, her five times great-grandfather on her father's side, was accused of torturing a Catholic man and his son during sectarian tension.
Emma reveals all to TV Times…
What was it like doing Who Do You Think You Are? "I loved not having a clue what was coming next. I kept referring to it as a treasure hunt. I had no expectations and I just tried to enjoy all of it. I wanted to learn as much as I could because when I was growing up, my nan did a family tree and became obsessed with it. I wish she was still alive so that I could share it with her."
Was it tough finding out about Richard Fowler? "I feel awful talking about somebody I don't know and saying he didn't seem like a nice man because we don't know what life was like then, but I was shocked to find out what he did. It was horrible and I was upset by it.
"You think, 'Am I being dramatic because it was 200 years ago?' But it is still your bloodline and I felt I should apologise to the people that lived in that area, so it had a strange affect on me."
You did find a very good man in your family tree in the form of your four times great-grandfather Michael Kirwan who was a social campaigner and a marble mason. What was it like seeing a church altar he made? "I never expected to be able to see and touch something that was made by the hands of my ancestors. I took so many pictures and there are a few other pieces of his work dotted around Ireland so I really want to take my dad on a little Irish road trip to see them because he is insanely obsessed with history."
Do you feel more Irish now? "I really do, we had no idea there was any Irish on my dad's side. I knew I loved Ireland for a reason. The one thing my daughter [Isabelle, 8, with husband Matt Willis] wanted for us was to be Irish because her two best friends at school are Irish and she got what she wanted."
You're also a very proud Brummie, were you pleased to find another strong Birmingham figure in your three times great-grandfather James Gretton? "Yes, it was funny, I come from just outside the city and as we were filming, this guy pulled up and said to me, 'You're not Brummie really', so I was pleased I could say to him, 'I'm actually deep-rooted in Birmingham' because we were from the city centre originally.
"James was a hairbrush maker and he worked really hard. But I was surprised to find out he had a child with somebody else and his wife did the same, you don't think that went on in the 19th Century!"
Do you feel you share any of your relatives' traits or values? "Yes, they all seemed to have quite solid family foundations, even Richard Fowler did everything for his family to try to better themselves, and that is what I come from.
"I had a perfect upbringing, really. My mum and dad were just loving and nurturing and worked hard to put a roof over our heads and taught us that you don't just get things for free. Now they look after my kids like my grandparents looked after us, so we're a very close, big family."
You've got Celebrity Big Brother this week, too, do you still get excited seeing who the housemates are? "I really do! I haven't heard everybody that is going in yet, but I'm looking forward to finding out who they all are. It's lovely to go from the chaos of the main series to the bonkersness of the celebrity one! It has been a busy summer with The Voice Kids, too, but it has been amazing and that is back next year so fingers crossed I will return again."
Who Do You Think You Are? screens at 9pm on Thursday 3rd August on BBC1 Celebrity Big Brother starts at 9pm on Tuesday 1st August on Channel 5
Caren has been a journalist specializing in TV for almost two decades and is a Senior Features Writer for TV Times, TV & Satellite Week and What's On TV magazines and she also writes for What to Watch.
Over the years, she has spent many a day in a muddy field or an on-set catering bus chatting to numerous stars on location including the likes of Olivia Colman, David Tennant, Suranne Jones, Jamie Dornan, Dame Judi Dench and Sir Derek Jacobi as well as Hollywood actors such as Glenn Close and Kiefer Sutherland.
Caren will happily sit down and watch any kind of telly (well, maybe not sci-fi!), but she particularly loves period dramas like Call the Midwife, Downton Abbey and The Crown and she's also a big fan of juicy crime thrillers from Line of Duty to Poirot.
In her spare time, Caren enjoys going to the cinema and theatre or curling up with a good book.
Get the latest updates, reviews and unmissable series to watch and more!
Thank you for signing up to Whattowatch. You will receive a verification email shortly.
There was a problem. Please refresh the page and try again.