Fight Like a Girl: Kimberley Benson, aka Viper, on why she's a female wrestler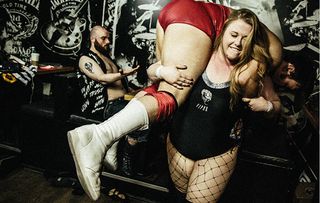 (Image credit: Raise The Roof/BBC One)
New BBC1 documentary Fight Like a Girl is on tonight at 7.30pm
Kimberley Benson works in her family's coach hire business by day. But by night she's one of Britain's top female wrestlers, who goes by the ring name of Viper. A new BBC1 documentary, Fight Like a Girl, follows her as she undergoes gruelling training and gets a shot at a coveted championship belt.
Here Kimberley Benson, 26, from Ayrshire - star of Fight Like a Girl - reveals why she risks serious injury for a chance of glory…
THE DREAM
"Sometimes I wonder whether it was worth the physical pain of walking around like an old decrepit person when I am only 26? But what's a dream worth?"
THE ADRENALINE
"I just love throwing myself at people – as soon as the music hits and you hear that roar of the crowd, your adrenaline starts buzzing!"
THE PRIDE
"I think a lot of people thought that I wouldn't last five minutes, but I'm so proud of where I've got to. It makes me really happy. My dad doesn't come along a lot and for him to have this moment with me, and hear everyone losing their minds is so important to me."
BUT……
"Being in the spotlight can be the loneliest place in the world. It's hard to build friendships. You have to live, breathe, eat, sleep, wrestle, it's every part of your day from the second you wake up. Sometimes the silliest things can cause the biggest injuries. It hurts so bad, I feel it through my whole body. I do worry about myself being injured, it's a horrible feeling that this might be my last match. But what's even worse is the thought of injuring someone else."
Fight Like a Girl is on BBC1 tonight at 7.30pm.
Get the latest updates, reviews and unmissable series to watch and more!
Thank you for signing up to Whattowatch. You will receive a verification email shortly.
There was a problem. Please refresh the page and try again.