Flockstars' Lesley Joseph: 'When I was skipping like Heidi in a field, 150 sheep charged at me!'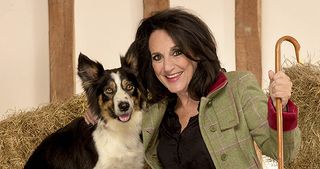 This week will see nervous celebrities undergo training with skilled professional partners in a bid to perfect some precise moves and emerge triumphant in a knock-out contest.
No, the new series of Strictly isn't starting early, it's ITV's fun new reality show Flockstars (Thursday, July 30), which sees eight celebrities team up with sheep dogs to try their hand at herding in a series of timed trials.
TV Times (opens in new tab) caught up with Birds of a Feather star Lesley Joseph (opens in new tab), 69, who tells us what life is like as a shepherd….
Why did you decide to give shepherding a go?
"I wouldn't like doing Strictly where it's about your popularity, but this was about learning a skill with one of these special dogs and I didn't think twice. If I lived in the country I'd do this as a hobby, it was that exciting and I put my heart and soul into it."
Were you nervous?
"Well, I did another reality series, The Underdog Show, where we had to train a dog, mine ran amok so I ended up going through the hoops and tunnels myself. So I thought that if this happened again I'd have to do what the sheep should be doing and pen myself, but these dogs know exactly what they are doing."
What bond did you have with your dog Gyp?
"Gyp was beyond beautiful, she was like a wolf, and all she wants to do is herd animals. As soon as you go into the field and she hears a sheep she's crouched and ready to work. She was a Geordie dog, though, so I had to speak in a Geordie accent when I was learning the commands, which was hysterical."
Did you have any other funny moments?
"Yes, at the farm in training. They wanted it to look like The Good Life, but I got stung by bees and the pigs and cows weren't happy with me being there and when I was skipping like Heidi in a field, 150 sheep charged at me!
"The funniest moment in the arena, though, was with Tony Blackburn in rehearsal. He got one sheep at one end, three sheep at the other and he lost the dog and we were screaming with laughter."
How would Dorien have done?
"Well Dorien couldn't hack it but she would have loved the two male shepherds; when one started shearing and the vest came off, she'd have been in heaven. We did a little nod to her because I had leopard skin wellies in training."
Have you started filming the new series of Birds of a Feather yet?
"We start in mid-August and there's a death and a new member of Dorien's family. It's over 25 years old now and it's extraordinary, I am so proud that it has a life still. It has always had heart and emotion, too, as it did at the end of the last series when we thought Tracey had cancer and we've been careful not to lose that."
Get the latest updates, reviews and unmissable series to watch and more!
Thank you for signing up to Whattowatch. You will receive a verification email shortly.
There was a problem. Please refresh the page and try again.