Gareth Malone: 'I tried to get Prince Harry on the Invictus Choir, but he said he's not the greatest singer!'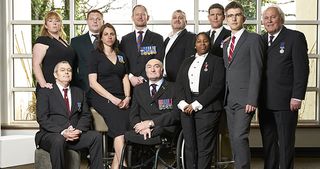 (Image credit: BBC / Twenty Twenty Brighton / M)
"It has been a powerful experience that has made me think about my own life and how lucky I am," says Gareth Malone as TV Times catches up with him to chat about his most demanding choral challenge to date...
In BBC1's documentary Gareth's Invictus Choir (Thursday, May 5), we'll see choirmaster extraordinaire Gareth, 40, search for vocal talent among veteran members of the Armed Forces who have experienced injury or trauma.
This very special choir will then sing at the Opening Ceremony of the Invictus Games in Orlando, Florida…
How did Choir for Heroes come about?
"After I did the military wives' choir, there were suggestions about teaching people who had served in the forces, but I didn't feel ready because I have a young family [Gareth has daughter Esther, five, and son Gilbert, two, with wife Becky] and I was getting over the emotional impact of working with the military wives.
"I have got this association with the military now though and I am a big fan of Prince Harry, so something about the Invictus Games chimed with me."
How different is this from the military wives' choir?
"I have a phobia of doing things twice, but it's very different, because it's about disability. My experience has been a lot more intense than anything I have done, too. It has been personally challenging and inspiring."
What kind of people were you looking for?
"I needed people who can get up there and with authority say, 'I was in Afghanistan. I lost my sight' or 'I took shrapnel in the back of the head', but I also wanted to show the range of people affected.
"So we have people who have been in Kosovo, a guy who was bombed by the IRA and people who served in the '60s whose PTSD [Post Traumatic Stress Disorder] has only reared its head in the last 15 years.
"Veterans with mental health problems are an untold story and it is shocking how incapacitating it can be and how those invisible scars take a long time to heal."
Gareth's Invictus Choir trailer:
http://www.youtube.com/watch?v=XFx_uATlHk8
Is there one story that made you particularly emotional?
"I have lost it emotionally twice in my career. One was on the very first series of The Choir, but I also cried buckets on this when I chatted to one of our guys,
"Paul, who was injured when his colleague stood on a landmine in Afghanistan. He lost his sight and before that he also had to cradle his friend who was dying in his arms. The resilience he has shown is very affecting."
How did you choose the song they will perform?
"I wanted them to write the song themselves so it is a fantastic statement about what they've achieved. One girl called Gemma joined the military and now has PTSD and she stopped singing and playing the piano and it was only when her daughter became musical that she got back into it.
"She and I sat at the piano last week and out came this beautiful chorus about how difficult it is to admit your frailty when you've been in the military."
Have you seen them grow in confidence?
"I hate to make too grand a claim for music, but you do see the lifting of spirits and the camaraderie. I want to see their pride in what they have achieved and give them a fantastic memory. It's not a depressing show, it is fun and we are looking forward to the sunshine in Florida!"
Will you be getting Prince Harry to sing with them?!
"Obviously I tried! But at the beginning I talked to him about the whole project and he admitted to not being the greatest singer."
You did The Great Choir Reunion last year to mark a decade since your first show; can you believe it was that long ago?
"Thanks for reminding me how old I am! When I look back on those early days, I didn't know a lot, but I knew the effect that music has. With the military wives, it was the first time that I really tested what music could do and this show is the same, it's revealing music's power to achieve extraordinary things."
Get the What to Watch Newsletter
The latest updates, reviews and unmissable series to watch and more!