From Albert Square to St Marie – ex EastEnder Gary Beadle stars in Death in Paradise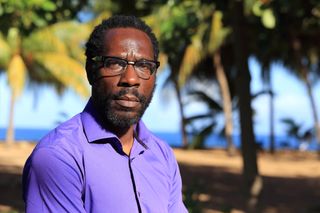 (Image credit: BBC/Red Planet Pictures/Denis Guyenon)
Gary Beadle, who played Paul Trueman in EastEnders for three years, tells us about filming Death in Paradise in Guadeloupe, where he avoided a nasty attack!
Gary Beadle, who played Paul Trueman in EastEnders for three years, tells us about filming Death in Paradise on the idyllic island of Guadeloupe – and what he's been doing in the 12 years since he left Albert Square...
Tell us about your Death in Paradise character Samuel Palmer? "He's a local boy, he grew up on the island and is a bit of a tearaway. He's a reformed character, thoug,h who wants to live an honest existence and finds himself caught up in this terrible situation He's an ex crim who's gone straight. He is a waiter and barman at the hotel. He's content with just getting on with life. He's a nice character, a reformed character, which is very interesting to play."
Why does DI Humphrey Goodman think he might be a suspect? "Everyone is a suspect until they find the real culprit. He's friends with the murder victim and because of his criminal past fingers are pointed at him – it's perceived that after he came out of prison he wanted some payback about an incident when they were younger…"
Was it fun to film on Guadeloupe? "It was brilliant! The whole team are so welcoming. It's a really pleasant place to work and I had lots and lots of laughs with Kris (Marshall, who plays Humphrey) and Danny John Jules (who plays Dwayne), who I know very well. It's what I call nice work if you can get it!"
Had you been to Guadeloupe before? "I did a BBC documentary on the Caribbean islands and although Guadeloupe wasn't in the documentary, I managed a couple of days there. But I never got to appreciate it the way I did actually working there. It was all new to me and wonderful."
How long were you there for, filming Death in Paradise ? "It's about two weeks, but it feels like five days because it's so quick. They are really good at getting your big scenes done early so you can really enjoy your stay there. I enjoyed every single moment of it.
"I was the only person on the whole crew who never got bitten by a mosquito, which is really strange! Going off to the Caribbean and never getting bitten by a mosquito, it couldn't get any better! When I went to Jamaica as a child it was the same thing, I didn't get bitten. And people would say 'you've got bad blood, they don't like you' or 'you're not sweet enough'. When I knew I was going to do Death in Paradise I was buying every anti-mosquito cream going and I didn't have to use any of it. I'd be walking with people and they would literally be going 'Ow, Ow, Ow' every few seconds and they (the mosquitoes) didn't come anywhere near me!"
What are you up to at the moment? "I've got parts in Silent Witness and Grantchester – I play a new arch deacon in that! And I've also been spending a lot of time in Paris. I'm a French language student. I just wanted to do something different and I thought 'I'm going to learn another language'. There's a whole generation of people from the Caribbean coming through with artistic ambition in theatre, music, television and film and so I kind of want to be part of this French cultural revolution. And that's why I am learning the language.
"I enjoy it very much and I'm doing really well. I go to a language school there and also teach a bit of drama. I spend a lot of time between London and Paris. I was really chuffed to do Death in Paradise because it's set on a French island in the Caribbean, so I spoke French with the locals, so I enjoyed that. It was as great experience all round!"
Watch Gary in Death In Paradise on BBC1 on Thursday, January 19
Get the What to Watch Newsletter
The latest updates, reviews and unmissable series to watch and more!