George Clarke: How to turn the ugliest house on the street into your dream home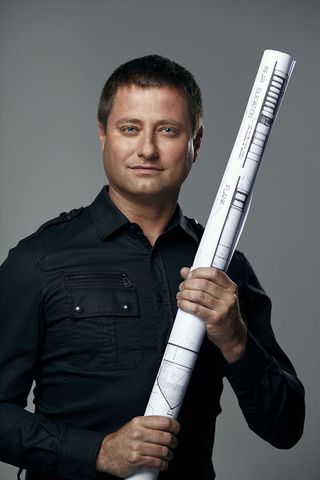 As TV&Satellite Week (opens in new tab) arrives at a North London studio for a photo shoot with George Clarke (opens in new tab), the architect and TV presenter is in his element. Happy to do whatever the photographer asks, he's soon bursting through a giant sheet of architectural plans and pondering whether holding a hammer or a wrench would be more appropriate for the photos.
The Sunderland-born 41-year-old first appeared on our screens in 2003 in Channel 5's Build A New Life and in 2010 he brought his love for converting unlikely buildings into desirable dwellings to Channel 4 with The Restoration Man (the sixth series is currently screening on Thursday).
This time, we're here to chat about his latest project, Channel 4's Ugly House to Lovely House (opens in new tab) (Thursday, February 25), in which the owners of unsightly, drab, or dated homes work with a top architect to turn their eyesore into a design wonder. Here, George gives us the lowdown…
What is Ugly House to Lovely House about?
"We've got 25 million houses in Britain and the vast majority were designed at a time when there were different fashions. People came to us saying that they had the ugliest house on the street and they were embarrassed getting people round. But they've been brave enough to see the value of bringing in a good architect who'll push them so that they could be living in the house of their dreams."
Were there any worries from the partipants about what the architects were planning?
"Yes, on every single project. One architect gave a family the brightest orange windows I have ever seen but it was cool, it worked, and they just had to trust him. In the end every participant said, 'We never thought we could make that happen.'"
Do you hope it will inspire viewers to change their own lacklustre houses?
"Yes, on other, aspirational shows they have big budgets, but it is beyond the reach of many. Ugly House is accessible, affordable design. There are only so many people who are going to take on a grade one listed building like I do on The Restoration Man, though this will appeal to millions who have ordinary houses that they want to make extraordinary."
Have you ever lived in an ugly house?
"All of them. I've always bought houses that have seen better days and people have said, 'What the hell are you going to do with that?' but I've seen the potential and made them lovely. Every single house can be transformed and made beautiful with the right architect and a brave client."
Are friends wary about you visiting in case you judge their houses?
"My agent said she is never inviting me round to her house! Will Young is a good friend of mine and when I went round to his house, he said: 'What do you think, be honest?' so gave him my truthful view. I'm not taking responsibility but he moved eight months later."
Do people in the street ask you for tips?
"All the time. One woman recently stopped me in the supermarket and asked me where she should position her wood-burning stove in the living room; that's how interesting my life is! I found myself getting into it though and telling her where it would work."
Do you get strange fan mail too?
"I get sent all sorts of weird and wonderful things. But I also get great letters and emails from parents who say, 'My kid now wants to be an architect or builder because of you.' That is the biggest compliment because we have a massive skills shortage in the industry because people want to be celebs or footballers instead."
Are there things you still haven't got round to doing in your own house?
"Yes. I have a touch of OCD so even things that other people wouldn't notice are a problem for me. There's a lad working on my house now doing things I wanted tweaked and there is still stuff that I want to do."
What is your own favourite building in Britain?
"If it wasn't for Durham Cathedral I probably wouldn't have been an architect. I was taken there when I was about seven and I couldn't believe that someone built that 1000 years ago when we were still building mud houses with straw roofs – it's mindboggling. I am also a big fan of The Shard. It is a clever addition to London because I prefer it when we build up than build out."
Would you ever do Strictly or I'm A Celebrity?
"Never. You can kill me if I do. Even when my career is over I still won't. I couldn't imagine anything more embarrassing than Strictly; I would be dad dancing. I'm not eating alligator's testicles for anybody either. Ant and Dec are good mates of mine and they've joked about me coming on, but even though it looks good fun, I couldn't survive in such an intense atmosphere with a bunch of other people. I'm just not interested in being a celebrity; I never went on telly for that."
Get the latest updates, reviews and unmissable series to watch and more!
Thank you for signing up to Whattowatch. You will receive a verification email shortly.
There was a problem. Please refresh the page and try again.