Call the Midwife actress Helen George: 'My real midwife had a lip balm with my face on it!'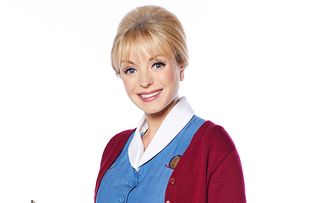 (Image credit: BBC/Neal Street productions)
Call the Midwife star Helen George on the lovely reaction she got from medical staff when she gave birth
Helen George was delighted that her real midwives were huge fans of Call the Midwife. The actress gave birth to daughter Wren Ivy, with partner and co-star Jack Ashton, last autumn, and the medical team who delivered the baby had a hilarious reaction to their famous patient.
"They looked at me strangely to begin with. Then one of them pulled out a lip balm with my face on because we had a Call the Midwife range out in the shops a few years ago!", said Helen. "It was nice that they watched the show. Just as I was about to give birth my midwife said to me, 'Now I'm going to say you can call the midwife!' It was really sweet."
This week's episode of the drama finds Trixie facing a dilemma over her relationship with dentist Christopher (Jack Hawkins), while her battle with alcoholism is set to return.
"It felt right not to forget the alcoholism storyline because it is an on-going struggle," she said. "It'd be very 'TV-ish' to say, 'Oh I'm better now. Let's have a gin and tonic.' In reality that's not how it is."
Helen will soon be disappearing from our screens due to her maternity leave. But she will be back filming the next series of Call the Midwife in April.
"I haven't worked on the show yet since becoming a mum, because I was pregnant during the series and my baby is still so young. It will be interesting," said Helen. "I can't believe that it'll be series eight; it's madness. It's the longest relationship I've ever had!"
Call the Midwife continues on Sunday at 8pm on BBC1
Get the latest updates, reviews and unmissable series to watch and more!
Thank you for signing up to Whattowatch. You will receive a verification email shortly.
There was a problem. Please refresh the page and try again.