Call the Midwife star Helen George: 'It wasn't right for Trixie to be pregnant too so there was a lot of sitting down and wearing capes to cover the bump as I got larger!'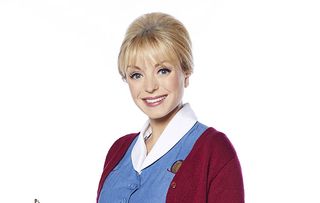 (Image credit: BBC/Neal Street productions)
Call the Midwife actress Helen George reveals all about real-life motherhood and the return of the hit drama
As Call the Midwife's stylish nurse Trixie Franklin, Helen George has delivered numerous babies over the years. However, last autumn saw her give birth to her own little bundle of joy – daughter Wren Ivy – with her partner and co-star Jack Ashton.
Here, Helen George tells TV Times about her special delivery and the return of Call the Midwife…
TV Times: How did you cover up the bump during filming?!
Helen George: "It wasn't right for Trixie to be pregnant too so there was a lot of sitting down and wearing capes to cover the bump as I got larger!"
TVT Did being on the show stand you in good stead for giving birth and being a mum?
HG: "It was interesting doing these storylines knowing I was about to become a mum. I'd been so well-educated by the show that I could make an informed decision about what I wanted but although you think you know everything about babies because we've learned all about midwifery, you soon realise you don't know anything - it's hard work!"
TVT The new series of Call the Midwife see the arrival of the show's first West Indian midwife Lucille Anderson (Leonie Elliott). How does she fit in?
HG: "Trixie works with her in the first episode and she's impressed by this young midwife who knows exactly what she is doing and is fierce, strong and confident. But Lucille really gets thrown into things because she is also dealing with a bladder infection of her own."
TVT How are things going for Trixie's relationship with her dentist boyfriend Christopher (Jack Hawkins)?
HG: "This series is about developments in her relationship. There is a fun side to the story but you're not going to see awkward sex scenes - thank goodness! But we also see the impact of the fact that he is a divorced dad with a young daughter."
TVT Will we see Trixie deal with her alcoholism again?
HG: "Yes Trixie faces her on-going struggle with alcoholism again and her sobriety is challenged… She is always struggling but it is just you don't often see it. There is always a game face on when she is at work."
Call the Midwife returns on Sunday 21st January at 8pm on BBC1
Caren has been a journalist specializing in TV for almost two decades and is a Senior Features Writer for TV Times, TV & Satellite Week and What's On TV magazines and she also writes for What to Watch.
Over the years, she has spent many a day in a muddy field or an on-set catering bus chatting to numerous stars on location including the likes of Olivia Colman, David Tennant, Suranne Jones, Jamie Dornan, Dame Judi Dench and Sir Derek Jacobi as well as Hollywood actors such as Glenn Close and Kiefer Sutherland.
Caren will happily sit down and watch any kind of telly (well, maybe not sci-fi!), but she particularly loves period dramas like Call the Midwife, Downton Abbey and The Crown and she's also a big fan of juicy crime thrillers from Line of Duty to Poirot.
In her spare time, Caren enjoys going to the cinema and theatre or curling up with a good book.
Get the latest updates, reviews and unmissable series to watch and more!
Thank you for signing up to Whattowatch. You will receive a verification email shortly.
There was a problem. Please refresh the page and try again.