Holly Willoughby: 'I cried more during the first new Surprise Surprise than I've ever cried'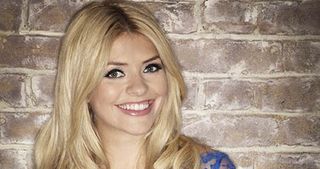 It's no secret that Holly Willoughby (opens in new tab) has always struggled to fight back the tears while filming feel good hit Surprise Surprise and reunions featured in the fourth series, which continues on ITV this week, are the most emotionally charged to date.
Holly tells TV Times (opens in new tab) why despite, officially, still being on maternity leave she wouldn't miss Surprise Surprise for the world…
You're often brought to tears in the show. Does that prove difficult for your make-up artist?
"She always says: 'I don't know why I'm bothering doing your make-up tonight, Holly!', But she's saying this with her own mascara running down her face. So I'm like, 'You can't blame me!'"
Does the show make you emotionally exhausted.
"When I got home from filming the first show for this new series, I was utterly exhausted. I cried more during that than I think I've ever cried. There have always been moments where I've had a little blub, but in that show everything seemed to get me."
Why was that?
"I think it's because we don't just do one surprise for someone, there's always a build as we go: "And there's another thing and another thing". It's exhausting; I'm exhausted doing it!"
Do you feel settled now after taking over the reins of Surprise Surprise from the legendary Cilla Black in 2012?
"I can't quite believe it's our fourth series already,' says Holly. 'It feels like we're more established now, I think it's got a real identity and we all really know the show inside out, which is a good place to be as you can just enjoy the surprises a lot more.
"I've always loved the show wholeheartedly so for me it was never about putting my stamp on it. I just love that moment where I get to go: 'Surprise Surprise!'"
What are your standout moments from the previous three series?
"My first is from series one, when we managed to reunite a couple with their wedding video 35 years on after a guy found it in a box at a carboot sale. I still can't work out how we managed to make that happen!
"The other one was last year for Sophia Wyatt, who lost her baby shortly before her due date, and set up the Count The Kicks campaign that Alesha Dixon and I were involved in.
"Afterwards, I got an email to say thank you as the campaign had been a great success. They told me that two women had seen it, and realising they hadn't felt kicks, sought help, and as a result two babies lives were saved. It's incredible to be part of something that like. It's more than a surprise on the night, it's something that will stay with me forever as you just think what might have been."
This year, the makers received over 10,000 nominations for surprises so it must have been very difficult to choose who to surprise...
"It's so difficult as I'd love to surprise every single of one of them. Every series I'm amazed at how inspirational the people of Britain are – and how it's possible to keep on discovering these extraordinary lives."
You always have some big names in showbiz queuing up to help, but do you ever call in favours among your own circle?
"Oh yes, left, right and centre. There's a lady, Jamie Thurston, who founded and runs a website called 52 Lives (opens in new tab) and every week she puts a story on there, for example, a child has gone into hospital and her mum says her daughter would love her bedroom painted in pink, her favourite colour. Then different people donate, it's like crowdfunding, and then they do up the bedroom.
"I thought it'd be good to get 52 celebrities to tweet a link to the website once a week to keep generating traffic so it can grow and she can do more. We actually got more than 52 – we blew the roof off that one!"
You've filmed Surprise Surprise even though you're still officially on maternity leave after giving birth to Chester. The show must be important to you?
"People keep saying 'Welcome back' but I'm like 'I'm not back! I wouldn't miss Surprise Surprise for the world. I'm back officially in September when I return to This Morning, but I've been dipping in, as I've done ITV panel show Play to the Whistle plus a series of ITV2's Celebrity Juice."
Are you looking forward to being back on This Morning?
"It'll be nice and obviously it'll be lovely to be back with Phil [Schofield]. But this year off has been very important for me because as it turned out Chester really needed me. He had terrible reflux to begin with and it was just all a complete nightmare. Plus Belle starts school in September so this is her last year at nursery so it's been nice to spend this time with her."
Have you still been tuning into This Morning while you've been off?
"I've watched it this week in between buying Belle's school uniform and changing nappies! When I was feeding Chester, I watched loads of it. Not so much now, but I still catch it on and off. It's like being a proper viewer again! It's such a good show. I mean you always think it's a good show, but watching it you see that it's a programme that holds your hand, it's just lovely."
Get the latest updates, reviews and unmissable series to watch and more!
Thank you for signing up to Whattowatch. You will receive a verification email shortly.
There was a problem. Please refresh the page and try again.