Idris Elba: 'I always go to Luther when I'm grumpiest. I use him as therapy'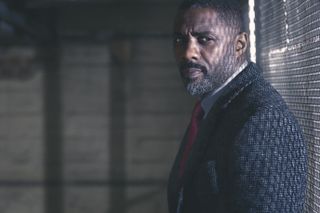 Idris Elba is back as troubled London detective John Luther (opens in new tab) (BBC1, Tuesday, December 15) and we caught up with him to discuss the new two-part series, whether there will be a Luther movie and DJing for Madonna…
Were you pleased to be back playing John Luther?

"Yeah it felt good. The audience are so loyal and patient and I love making the show."
What can we expect from the new series?

"Ultimately, because we don't do as many episodes as the audience would like, we can't really change the DNA of it. It's about a detective and it has the elements that we all love, but we try to mature where he is in the story. He's a human being and he has such bad luck, so many people die around him and we're like 'Come on! What happens to him in real life?' and we try to look at that closely."
DS Ripley was killed in the last series, was it strange to back without Warren Brown at your side?

"Definitely. No spoilers, but his presence is there."
We find Luther living in a cottage at the edge of England...

"Yeah, holiday Luther! No, he's trying to get away from everything after what happened, but then there's a knock on the door and he's on his way back."
What makes him go back?

"John Luther just won't sleep. As long as there's someone out there trying to get away with murder he's going to try and chase them."
There have been rumours of a film for a while now…

"I'm not sure what the end game is. You just want to make his world bigger and give a slightly larger scale to the whole thing."
Could you go down the Netflix route?

"There are definitely different ways to dissect it. It's a big challenge to make a film because economically… the Netflix model is an interesting one. So yeah possibly."
What's the reason for there being just two episodes this time?

"It was part of this redesigning the audience to think about the show not just as a series, but maybe a commodity that goes on. Secretly I've been imagining Luther on stage, as crazy as that sounds! Why not? We could go in any direction, but it's a tough show to make so we thought two was better than nothing!"
What's it like pulling that costume back on?

"I always go to Luther when I'm my grumpiest. It's like: 'I feel shit? I can play some Luther.' Because if I do it when I'm most happy it would drag me down. It's a really hard show to make mentally. But actually I use John Luther as a little bit of a therapy session because there's lots of screaming and shouting which I prefer to do on camera! It's definitely therapy."
Luther discarded his iconic coat at end of last series. Does he get a new one?

"When we see John there's no coat, but I can't say any more."
What can you tell us about the serial killer Luther's after?

"This character's particularly gruesome and very smart smart. I think he's a little unexpected. I think Neil the writer has outdone himself with this particular character. But the whole show is heightened because we're aware we've got a smaller window, the audience are being asked to watch it quickly."
Will we see his old friend Alice Morgan?

"Her presence is felt."
You say you go to Luther when you're feeling grumpy, what do you have to be grumpy about in your personal life?

"Life is full of great ups and there are obvious downs. Interestingly enough, I lost my dad two years ago and I've still not mourned about that. It's hard to do and I remember going into Luther with this sort of angst… my dad watched it and loved the show and I could get some of that off my chest.
"Actors have real lives and the truth is not everything is as rosy as it might seem, but the truth is I've got a character that I apply that into that character. I don't shy away from that. The first season, I had a very rough time before I did the first season and that door kicking scene, we only had to do it once!"
Is this your most personal project?

"Yeah, it's the one project that when I show up on set all I have to do really is put on my costume. In other characters I put on accents and walks and assume different things, with John Luther I shoot in Hackney, in my own accent, my grey beard is my grey beard."
What's it like filming in hackney?

"It's a full circle thing. Very young I remember in Stoke Newington going to the Rio cinema and watching films there and I've shot on that street. Coming away from the cinema, running up walls, acting like Spiderman, dreaming of being an actor and then being there and working, it's full circle. It feels good."
This isn't a farewell, either? Want to keep on playing Luther?

"I do want to keep on playing Luther in some shape or form because I'm really attached to it and I probably won't ever get written another character like that for television. We've just got to find a way to keep it going. I think people after five, six seasons after every show people are like 'Really? We're here again?" It's hard to keep it transitioning. But in short I think I'll keep playing him."
Is there ever anything in the script that's deemed too much for TV?

"There was a sequence in this season that we did which was considered too dark. It was a very dark, deep sequence that explained some things that were floating around in Luther's head. We shot it, cut it and put it in and had to take it out. It was a psychological expression of John. We axed it. It was pretty deep. Not everything that gets written and shot can go on TV!"
Were you sad to see it get cut?

"Yeah I loved that bit."
Away from Luther, you have a new album out?

"Yeah, I'm really happy to announce that Murder Loves John is now finished, I'm going to release it very close to the show, sounds horrendous, a musical version of Luther! But it came from an emotional place. I lost Mandela, I lost my dad, I wanted to express myself musically and now the concept of having a character album has become. I designed it in a way that if you watched the episodes with the album blaring, it comes from the same DNA. But it comes from Idris as opposed to John. I absolutely love it."
You said you could imagine Luther on stage, how about a musical?

"No. Absolutely not!"
It must have been amazing to collaborate with Madonna recently?

"I had a great time. Madonna is a legend. I'm a DJ for hire, she needed a great one, haha. I was standing behind the curtain before I went on and I made the mistake of peeking to see who was there and then there were 17,000 people out there. It was such a buzz."
Feature writer for TV Times, What's On TV, TV & Satellite Week and whattowatch.com
Sean has been writing about all things telly for over 10 years and in that time he's been lucky enough to interview stars like Ian McKellen, Tom Hardy and Kate Winslet. His favourite shows are The Great British Bake-Off, People Just Do Nothing and Succession and in his spare time he enjoys drinking tea, doing crosswords and watching football.
Thank you for signing up to Whattowatch. You will receive a verification email shortly.
There was a problem. Please refresh the page and try again.