Impossible Celebrities host Rick Edwards: 'H from Steps exceeds expectations'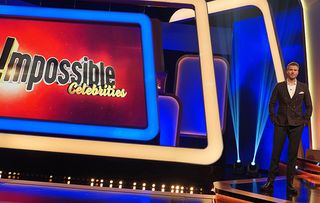 (Image credit: BBC/Mighty Productions/Alun Howe)
Rick Edwards talks about his love of quiz shows and why his daytime quiz Impossible is going primetime for celebrity spin-off Impossible Celebrities
From Catchphrase to University Challenge, there's no denying the British appetite for a good quiz show. And, for our money, the only thing better is a celebrity version! This Saturday BBC1's daytime favourite Impossible, hosted by Rick Edwards, puts that to the test as it gets a star-studded makeover for a six-part primetime spin-off.
It'll see eighteen famous faces compete for the chance to win £10,000 for their chosen charity. As usual Rick will give contestants three possible answers to a question. One is correct, one is wrong but related to the question, while the other is an "Impossible answer" – which means it's completely unconnected and therefore couldn't possibly be right.
http://www.youtube.com/watch?v=OXO1iDQo6DY
Stars who pick an "Impossible answer" are immediately eliminated from the game – but have the chance to redeem themselves when they compete again the following week. In each episode, the contestants are whittled down until the last person standing plays for the big prize. That celeb then leaves the show, making way for a new contender to join in the fun.
Among those taking part this week include Debbie McGee, MasterChef judge Gregg Wallace, Holby City's Chizzy Akudolu and Silent Witness star Liz Carr. Look out for EastEnders star Hannah Spearritt in show four and Strictly favourite Anton Du Beke in episode five.
Here Impossible Celebrities host Rick Edwards, 39, tells us more…
How does the celebrity version differ to the regular show?
Rick Edwards: "While it's quite similar to the normal version, it's with much rowdier contestants! They kept me on my toes! Members of the public are generally better behaved - basically celebrities will not stop talking! It was hectic but really good fun. I'd definitely be up for doing another one."
With so many famous faces taking part, was it tricky to organise?
"It's a slight logistical nightmare because you don't tend to have eighteen celebrities in one place at one time on one show. I'm not sure the production team would want me to say this, but there was an element of cat herding about it! With celebrities you have to chase at least fifteen of them in order to start filming even vaguely close to the planned time."
Were the celebrities nervous?
RE: "There was a bit of nervousness. When you're watching at home there's no real pressure or that feeling you might look like an idiot on national telly. It's a powerful fear and you can see it on some of their faces. But also some of them are really competitive, especially the sports people.
"If you've achieved a lot in sport you must have a certain mental drive that means you want to win. Some of them took it very seriously. I could see in comedian Russell Kane's eyes that he wanted to win! H from Steps exceeds expectations. It always makes me laugh if a celebrity gives an Impossible answer on the first question of the first round, as they're plunged into darkness for the entire show! It can irk them, but it's funny!"
Who would be your dream celebrities to appear on the show?
RE: "Just because I've grown up watching them being very clever, the likes of Stephen Fry, Germaine Greer and Jeremy Paxman, then we could really grill them to see how they do!"
Are you any good at quizzes?
RE: "I'm all right – when I was growing up my mum and dad really liked quizzes so I watched things like Blockbusters, Countdown and Wipeout with Bob Monkhouse. Fifteen to One with William G. Stewart was the king of quiz shows for me. It was so hard you'd feel good if you could even get three questions right. But I've done quite badly on TV quiz shows in the past. I absolutely disgraced myself on Pointless Celebrities the first time I went on! Even though it was years ago, my family still mock me by asking me where Geneva is…"
What was your answer to the Geneva question?
RE: "I don't want to talk about it! I'm humiliatingly bad at geography. It's very intimidating when all the cameras are on you, it's hot under the lights, and everyone's looking at you… you can find yourself saying silly things!"
Impossible Celebrities, hosted by Rick Edwards, kicks off on BBC1 at 7pm on Saturday 18 August and runs for six episodes
Get the latest updates, reviews and unmissable series to watch and more!
Thank you for signing up to Whattowatch. You will receive a verification email shortly.
There was a problem. Please refresh the page and try again.