In the Club's Jill Halfpenny: 'The sound guy probably had a heart attack listening to our chat'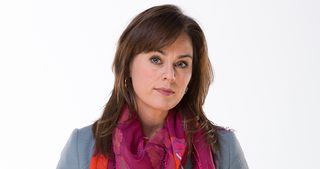 (Image credit: BBC/Rollem/Matt Squire)
Jill Halfpenny (opens in new tab) is certainly not having an easy time of it in BBC1's In the Club. In last year's hit first series Jill's character, cash-strapped Diane – already mum to two adopted children – gave birth to premature twins and saw husband Rick (Will Mellor) jailed for bank robbery.
Rick's since been released, but after he stepped in to help Diane in her childminding job last week there may be life-changing consequences for the ill-fated family…
So it's high time TV Times (opens in new tab) sat down for a chat with former EastEnder and Strictly champion Jill, 40, to ask…
How much more can poor Diane and Rick take?!
"It's a drama; things won't go smoothly! Once Rick came out of prison, they just wanted to get back to normal life again, but he has been a bit like a stranger in his own home, he doesn't do things the way she is used to and they have had to learn to be a couple again and now something major has happened because he messed up."
There are so many more babies in the show this time; what's it like filming with them?
"Chaotic! All their sleep patterns get out of sync, so one of Diane's twins will be awake and the other asleep so I had to mime feeding them in one scene.
"We rehearse with dolls, but then the kids come in and they just change everything. I love it though because they are comical and really unpredictable and it makes it more authentic and natural. It doesn't make me broody though, it is always nice to hand them back when you think, 'Oh my arm is aching!'"
What do you enjoy about being part of In the Club?
"Oh, it's a huge breath of fresh air not to have to audition for the role of 'girlfriend' or 'wife', all the characters are really well-written, challenging, interesting and complex and that is real.
"It is so good to be surrounded by women every day on set, too. One of the best things about the job is that we all get on really well and we have these chats that only women have, we talk about everything. The sound guy probably had a heart attack listening to us!"
We've seen Diane struggling with four children and being a childminder, how do you cope with working and being mum to your eight-year-old son Harvey?
"It is difficult and you can feel torn, but your choices just change. When I was younger, if somebody said, 'Do you want to do a world tour?' I'd be like, 'Yeah! Sounds fun.' But now it would be a nightmare for childcare and just impractical. I'd hate it; I can't be away from Harvey for long.
"I share my responsibility with Harvey's dad [her ex-husband, actor Craig Conway] and I am used to that, but 'mam guilt' is ingrained in you, even if you know they are happy and safe, it feels odd to be away from them, you start to physically ache.
"I had to be away for three weeks once and it was really unpleasant because they are part of you."
What do you most get recognised for?
"Sometimes In the Club, but mainly I get, 'You were in EastEnders innit?!' Some days some people go back as far as Byker Grove though. I get Strictly sometimes, too. I do still watch, it but I haven't tried the jive for a while, I think my knees would hurt!"
Do you see much of your niece Chelsea [who played Amy Wyatt in Emmerdale and trainee doctor Alicia Munroe in Casualty]?
"Yes, she was living above me in London until recently. It was so nice because she would pop in for cup of tea and she gets on well with Harvey, he loves her. When you live in London and your family aren't from there, it is a treat to have one of them near you."
Get the What to Watch Newsletter
The latest updates, reviews and unmissable series to watch and more!