Jeff Brazier on doing The Real Full Monty: After losing Jade to cancer, I have a responsibility to our boys to raise awareness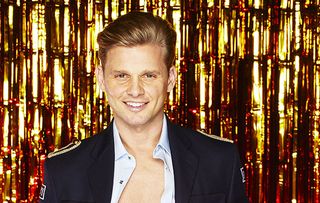 On Wednesday night, a group of fearless famous fellas will be baring all - LIVE - as The Real Full Monty returns to ITV to raise awareness of male cancers. Here, Jeff Brazier - whose former partner Jade Goody died of cervical cancer - reveals why he's taking part...
TV presenter Jeff Brazier on why he'll be baring all with the boys when The Real Full Monty returns…
Why did you want to get involved in the show?
Jeff Brazier: "As many people will know, I'm the father of two children [sons Bobby Jack, 14, and Freddy, 13] who lost their mum, Jade Goody, to cervical cancer in 2009. I want to hammer home the message that, if cancers are caught early, things can turn out differently. I feel I have a responsibility to my boys to help raise awareness."
Did you have any reservations about putting on a performance where you have to get your kit off?
JB: "Oh, massive reservations. I was asked to do the show last year but Bobby begged me not to because of how embarrassing it would be for him at school. And I understood that. But, again, it was that feeling of responsibility that got me in the end, so I said yes this time. And it's been fun."
Jeff (bottom, centre) with the rest of The Real Full Monty fellas
Did you feel under pressure to get in shape?
JB: "When I first said yes, I wasn't in my best shape at all. But when all us fellas are filming and talking about why we're doing this, your physical condition becomes really insignificant. The main thing us men worry about is how things are looking when it comes to the 'reveal' on the night, if you know what I mean!"
So how are the mens' rehearsals going?
JB: "Dancing comes more naturally to some than others and we're really pushing the boundaries with the routine this year. Tom Parker and John Partridge are performers, so those guys are leading the way. Ainsley Harriott is a good mover and Ugo Monye has left a few dents in the floor from doing knee slides! I'm not the greatest of dancers but I'm trying to be a team player."
Jeff reckons TV chef Ainsley Harriott has got the moves for the big performance
So, how are you feeling about the actual performance? Rehearsals are one thing but you have actually got to do this…
JB: "Whenever I start to think that I've actually got to, er, put myself on display, all kinds of things can go through a man's mind. But I've got to remind myself that I'm here because we're raising awareness of men's cancers and are hopefully gonna help save lives. So then I suddenly think: 'Just get on with it!'"
You do get to 'leave your hat on' and there is 'modesty' lighting at the end. But do you worry about there being a light malfunction?
JB: "Well, it has been known for some ladies who are particularly keen and interested in those final stages, to go and unscrew the lightbulbs but the lighting team don't like that too much. So it will be a battle between the lighting guys and the women that are unscrewing the bulbs… and I don't know who's gonna win! Listen, we are what we are, we've got what we've got, it don't matter, right?"
Putting the fellas through their paces is Diversity star Ashley Banjo
The mens' show is to raise awareness of prostate and testicular cancers. Why are men less inclined to get themselves checked?
JB: "Well, because it's not particularly 'blokey' to discuss health issues. Hopefully, if men can see a load of blokes on this show shattering that tradition, it might just encourage them to wake up and be more responsible about their own health. If we as a group can save a life then any effort we've put into doing this will have been more than worth it."
Would you say you've ever been guilty of thinking 'it won't happen to me'?
JB: "No. I think through personal experience I know that if any of it IS hereditary then I better watch out. I've always felt an extreme and heightened amount of responsibility for my own health because of the fact that I'm all that Bobby and Freddy have got. So, as a result, I'm on everything. I've had my prostate examined, I've done all the 'fun' stuff basically just to make sure I'm OK. I watch what I eat – I'm practically living off a plant-based diet – I train a lot, I don't smoke, I've never done drugs and I don't really drink a great deal. I'm obviously, subconsciously, just keeping myself in the sort of health that I think my kids deserve and being as responsible as I need to be."
We're also getting a 'Ladies' Night' this time. Why is it important for famous females to get involved?
JB: "Well, whether you're a man or a woman, we're all faced with the same choices in life; shall I go for that smear test or shall I just tell myself that I'll be alright? Whilst the females out there might, in their millions, be watching and enjoying seeing us fellas strip, when it comes to women, they also need to get the same bolt out of the blue. When women watch the ladies do their thing, the power will be in the stories that each individual can tell. In terms of the line-up, you've got people like Michelle Heaton, who's been through an excruciating amount, with her own personal health, Victoria Derbyshire's experience I've learned about, and Coleen Nolan has obviously had a great deal of heartbreak in her family."
Eight fearless females will also be taking to the stage in The Real Full Monty: Ladies' Night
Have you watched any of the ladies' rehearsals? Or have they watched yours?
JB: "They haven't yet but we're talking about it and we're gonna do an: 'I'll show you mine, if you show me yours!' I always thought it would be great if they went first, to be fair. It is 'ladies' first' after all."
And so you'd know what you're up against?
JB: "Ha, ha, yeah. If we were being competitive about it, us boys could be saying: 'Come on, let's get this routine nailed better than them'. And maybe it'll take our minds off the nudity aspect, so thanks for highlighting that!"
It was Mother's Day earlier this month. Is that always a difficult time of year for you and your sons?
JB: "Well, there's Mother's Day, which is closely followed by the date they lost their mum, so it's a bit of an unfair month really in that it delivers two blows for them. I always know it's gonna be a little bit of all things for them but they know how to cope with it, they know how to deal with it and they know we'll talk. And we always know that whatever we'll have done to mark both occasions, we'll feel that we've been respectful and, therefore, there's a permission in that; there's a permission to know that you did the right thing and that you've done enough."
On a lighter note, you got engaged to your girlfriend Kate Dwyer last year. How happy are you?
JB: "Yeah, I really am happy. It's good times. The boys are happy. It means a lot to them, my youngest especially. My boys have a very good relationship with Kate. It is exactly as it would need to be in order to qualify for a wedding. Personally, I thought marriage was for normal people and, it's not that I considered myself not worthy, I just didn't know whether I'd get there. But the fact I have is tremendous."
And, career-wise, what else are you up to?
JB: "I'm really enjoying working for BT Sport covering their live football matches. It's going really well and, being an ex professional footballer, it's something I know about and I can't tell you the enormous satisfaction I get; it just isn't work. I spent a lot of time trying to progress up ladders at ITV and, to a large extent, only getting so far. It was beginning to get frustrating and now I feel like this is what I'm meant to be doing. Before you know it I'll hopefully be pushing people like Jake Humphries and Gary Lineker for their jobs!"
The Real Full Monty: Live screens on Wednesday March 28 at 9pm on ITV. The Real Full Monty: Ladies' Night screens on Thursday March 29 at 9pm on ITV.
Get the latest updates, reviews and unmissable series to watch and more!
Thank you for signing up to Whattowatch. You will receive a verification email shortly.
There was a problem. Please refresh the page and try again.