Jekyll and Hyde's Tom Bateman: 'I only had one go at smashing up the hotel room!'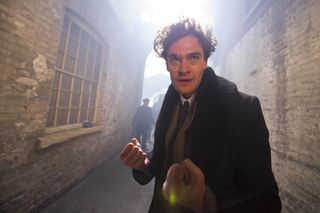 Jekyll and Hyde star Tom Bateman reveals he's got the best of both worlds in playing two very different leads in ITV's new high-action adventure series.
Tom says: "Writer Charlie Higson's reimagining of the original Robert Louis Stevenson novel is so much fun.
"Robert Jekyll is completely ignorant he's the grandson of the original Doctor Jekyll and has inherited the family curse. But this earnest, buttoned up, repressed young man soon realises there's someone nasty lurking inside him!"
In the first episode, Robert left his adopted family in Ceylon and set off on an epic journey to London. His monstrous side has been kept under wraps by medication, but bad news in a telegram saw him morph into his violent alter ego. Which meant some high-octane, scene-smashing moments for Tom!
Tom laughed: "That was my first outing as Hyde and also the most fun day on set in my career so far. They gave me a beautiful hotel room and everything was breakable.
"It's all about this monster coming out. Robert hates his reflection as Hyde because he's a monster. He's trying to fight it and destroy those reflections, but then he just fully embraces it.
"I knew I only had one go at doing most of it. I smash mirrors, break chairs, blow doors off their hinges. There was a big wardrobe with a mirror and that got absolutely destroyed. [Later] Hyde also destroys the Empire drinking hall when he is fully transformed. That was three days of shooting. By the end of the third day everything was broken. The amazing set designers had to rebuild it from scratch. They were like, 'please don't break anything else!'
"Seeing Robert's struggle to come to grips with his liberated evil side is really fun!"
Jekyll and Hyde continues on ITV on Sunday evenings.
Watch our video interview with Tom here
Get the latest updates, reviews and unmissable series to watch and more!
Thank you for signing up to Whattowatch. You will receive a verification email shortly.
There was a problem. Please refresh the page and try again.