Joanna Lumley returns to India for ITV: 'I gave the Dalai Lama a drone!'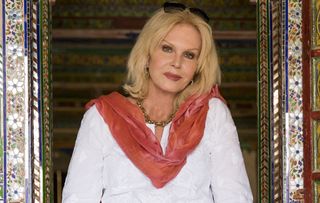 Joanna Lumley on meeting the Dalai Lama and discovering the true meaning of home on a return trip to her birth country of India…
The absolutely fabulous Joanna Lumley has visited many amazing places for her hit ITV travelogues, from Egypt and Greece to Japan. But nowhere, perhaps, holds a more personal connection for Joanna than India, the country where she was born, which is the destination for her latest three-part documentary series.
For Joanna Lumley's India, the 71-year-old actress travelled the length and breadth of India, more than 5,000 miles. We caught up with the actress to find out more…
What was the starting point for the trip? "I've been back to India for various things over the years. It's as immense and as complex as Europe with what used to be princely states that have no connection with each other. There are around 225 official languages, but it's one democracy, which means it's complicated beyond words. So approaching it with the idea of making three hour-long programmes, we just had to pick things that we hoped weren't very touristy or famous like the Taj Mahal, so that anybody who has been wouldn't find it a bore."
You were born in Srinagar, Kashmir, in 1946 to English parents, as your dad was serving in the 6th Gurkha Rifles, a regiment of the British Indian Army. Tell us more about your links to India… "For several generations on both sides of my family, India was home. It was where we worked as soldiers, doctors, and diplomats. Although I left before my first birthday all the family memories have India in them. So I don't have a place in England we can call home because nobody lived here; India was more home than here."
Your previous travelogues have also had personal themes. How does this compare? "I didn't want to come to India at first because I felt that my connections are so complex and so sprinkled. For example, half of my family were born in what is now Pakistan, and you can't mention Pakistan in an India programme. So I said if we do have my relatives in it, I want it to be incidental, I'm not going to follow in their footsteps, mainly because I'd have to leave out so many. We also couldn't make it a partition-of-India programme because that's too dark for ITV at 9pm."
We see you visit The Residency in Sikkim where your mother grew up. What was that like? "It was lovely in Sikkim because I'd seen photographs of her there and there's something very touching about where your parents as people have been before. We weren't allowed to film there, but that doesn't matter. They were only there as tenants, but it was nice just to be somewhere that she called home."
Watch a clip from Joanna Lumley's India:
You also lived in Hong Kong and Malaya during your childhood. Do you think experiencing so many different places and cultures has shaped the person you are today? "Probably. Maybe that's why I don't feel xenophobic about belonging to a particular country. As a child you're usually welcomed, and so wherever I went I just loved it. I would love people to come to this country and feel welcomed. I love this country, but I've realised home is actually where the people you love are rather than an actual house."
In episode one, you also got to observe wild elephants… "In Africa, wild elephants roam on the plains so if you've got field glasses you can spot a herd. But in India, wild elephants stay in the jungle so you can't do that. Then suddenly when they started coming out of the forest, it was utterly thrilling!"
Later in the series you meet the Dalai Lama. You've met him before, what's he like? "Fantastic! He's now 81, and travels and works non-stop. He's as kind and as wise as can be and is full of joy and compassion. We gave him a drone!"
Seriously? "Yes. I phoned the Office of Tibet and I asked: "What shall I take his holiness?" They suggested biscuits as he has them for his last meal of the day with some tea. I was like: "Really?!" I said to our gang we want to give him something sensational and I know he's always loved gadgets, as he's very mechanical-minded, so I suggested a drone as we always use one on our trips to get aerial shots. When we put it on the table, he went 'Ooohhhh!' We taught a young monk how to fly it. What a funky Dalai Lama travelling with a drone!"
Watch Joanna Lumley's India on ITV from Wednesday, July 5 at 9pm
Get the latest updates, reviews and unmissable series to watch and more!
Thank you for signing up to Whattowatch. You will receive a verification email shortly.
There was a problem. Please refresh the page and try again.