Joanna Lumley: 'Meeting a shaman was jolly odd'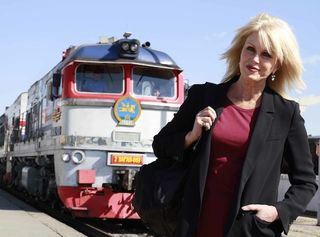 Ab Fab star Joanna Lumley tells What's on TV about the people and places she encountered on her latest journey on the Trans Siberian railway...
How did this journey come about?
"The idea was that it's nice to do something you're personally connected with. I lived in Hong Kong as a little girl and I was a model in Moscow in the '60s. Those looked like two fabulous bookends but all the middle bit I didn't know at all."
What were the biggest changes you noticed?
"Russia was in the grip of the Cold War back then and we were followed really closely by Stasi people everywhere we went. We couldn't go anywhere in Russia and, even in Moscow, we could only go to the Kremlin and the approved bits. So it was wonderful to see the whole of Russia and the people were adorably open, good-humoured and generous. Wherever we went they put out feasts and cakes for us, they'd take our addresses and wanted to email us. In episode three, we go to Siberia and one woman said, rather touchingly: 'When was the last time you read something nice about Russia in your newspapers?' And I thought, we don't. You never hear anything about the people of Russia. So I felt really happy that we could show how normal and charming and humorous they are."
And Hong Kong?
"When I was there as a child, [Joanna's Army officer father was stationed there] the tallest building was six storeys high. I can't tell you how weird it was to go back for the first time because, as a child, we could see the sea from our road, but now they've reclaimed land and built, so that was an exciting thing to see. The bit I remember most of our time there is all driving up the Peak, which overlooks Hong Kong Harbour and then on to China, it's the posh part up there. Our car, which was called Maggie McGinty McGee, was an old Ford with a crank and sometimes it could hardly make it up to the top."
When were you there?
"From the age of about two to age four. I have a good memory! I remember being on the steps of one of the big hotels. We sailed to Hong Kong and it took five weeks from Southampton. Everything in those days was long, long journeys."
How long was this trip?
"We broke it into two. We had three weeks in September doing Hong Kong, China and on to Mongolia and then came back and then did the whole Russian bit in November for three weeks. You can't cart all that stuff. There are only six of us and, of the 31 suitcases, 29 are film stuff."
What are your stand-out moments?
"The Imperial City in China because, which I thought would be boring and touristy, but it kind of overwhelms you because you haven't really reckoned on the scale of it. Going to the Great Wall at dawn - we got up at 3am, put on our climbing boots by torchlight and set off and walked for an hour, thumping and bumping through the jungle in the dark. Finally, you're climbing up the wall and you get there just as the sun's coming up, you can see it glinting over the hills for miles, for ever and ever. We used a drone and got some stunning shots.
"And meeting a shaman in Mongolia. It was jolly odd. He was very young, rather beautiful and he obviously went into a trance after drinking some fermented mare's milk. He's believed to be in contact with the ancients but you don't expect somebody to say: 'was it your mother who taught you about nature?' And you think, yes, because that's exactly what my mother was mad keen on. That felt extraordinary. I was aghast."
Didn't you get up close to a nuclear bomb in Russia?
"Yes, it was James Bond beyond Bond. We were 20 storeys down in a kind of underground city, these great winding corridors and where they had those two buttons that could have started a nuclear war and the end of the world. The pictures up there were of Khrushchev and JFK and I said, 'Why didn't it happen? Why did Russia pull back [during the Cuban Missile Crisis]?' I was told the two leaders decided the world was not ready for war, which meant they were not ready. Thank God."
What's your feeling about the whole experience?
"Always, my old mantra that I say to people is, try to travel, try to do something. Try to get out and see how other people live. It settles your fears. I think there's a lot of fear at the moment, especially because of the huge swirl of trans-migration of populations, people saying that we haven't got any room. I think we have to learn that other people live the same lives as we do and usually only extreme hardship would dislodge them from where they are. So not to be hateful to people who are in trouble because they're the same as us; they're kind and friendly and want the best for their children. They long for education. Most people want a good education for their children."
What do you think makes a good travelling companion?
"Somebody who's adaptable and who doesn't get impatient when you suddenly have to wait 12 hours at a station, which happens. I like travelling with people who are courteous enough to learn 'please' and 'thank you' and 'good evening' in the language of where you are. And people who travel light."
Are you a light packer?
"Yes I am. Quite often it's best to wear semi-forgettable clothes, stuff that doesn't jar. But what I would wear is a lovely eye-catching necklace or a scarf instead. The other thing is never take more than one handbag!"
What next for you acting-wise?
"A film of Absolutely Fabulous, which we're starting in October and I guess it's out next year sometime."
Did you get recognised on your travels?
"In Hong Kong I did because there are quite a lot of expats. But not China or Russia because they don't get our television. It's fabulous because you get someone looking you in the eyes and seeing only you, not who you've been or who you represent. They don't know if you're famous or rich or poor or anything. They only see a woman who's 68 going around the world!"
Did you go exploring off camera?
"No, never. You'll be pleased to hear that the public money is not spent on us having a good time! Sometimes you're lucky if you get a day off in two weeks. It's draining. We always work 12-14 hour days. I sleep when I can, read and try to be tranquil and not fret about things. I'm hopeless about phoning home. I came from the world where travelling was sending a letter or a postcard, which I still do. I'm the only person in the world who sends postcards!"
Is this one of the most adventurous trips you've done?
"In scale, it's huge, a mega, mega journey. We only slept two nights not in trains or hotels, which were with some Mongolian horse herders and then with some fishermen, having drunk rather a lot of vodka! What I'd really like to do though is to take people on my journeys who wouldn't ever have the chance to do this, they haven't got the money or the time and they can't go to a Russian oligarch's palace or a gold mine in Mongolia. Those are the people I do it for."
Who's your fantasy travel companion?
"I think Richard Burton would have been a dashing companion, though I know he was rather a devil!"
Joanna Lumley's Trans Siberian Adventure is on Sunday July 12 at 9pm on ITV.
Get the What to Watch Newsletter
The latest updates, reviews and unmissable series to watch and more!