Joanna Vanderham: I feel like I'm 'twinned' with Vanessa Redgrave!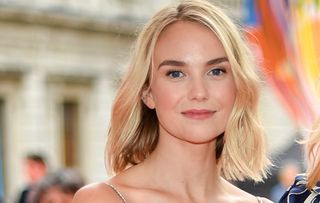 (Image credit: Nick Harvey/REX/Shutterstock)
Joanna Vanderham on her second time portraying the younger version of Vanessa Redgrave's character in a passionate new drama
Two very different gay love affairs are examined in BBC2's two-part drama Man in an Orange Shirt. The first episode is set during and after World War Two as young bride Flora, played by Joanna Vanderham, discovers that her husband Michael (Oliver Jackson-Cohen, left) is is in love with war artist Thomas March (James McArdle, right).
Meanwhile in the second episode, Vanessa Redgrave plays Flora in the present day.
Joanna, best known for The Paradise, tells us more…
How would you describe Flora? "She is a wonderfully fascinating character. When we meet her she is full of vitality and she is so excited to be marrying and starting this new journey in her life. But she doesn't deal with things well and her way of coping is very blinkered."
How does she change when she discovers the truth about Michael? "She is quite innocent and naive so when she uncovers their love, her confusion and fear kick in and she has a guttural reaction. You see her become this closed, tight-lipped woman and it turns into a story about three people who are lonely because no one can be with who they want and ultimately they are all unhappy and we see the cost. It is not a 'gay drama', it is a very human story that needs to be told."
Does she ever change her views? "I think if she ever got to understand, it would be a very different story. She has got these misconceptions and preconceptions that are incredibly of the time, but she is also not somebody who is particularly worldly and she is maybe a bit ignorant. She chooses not to properly acknowledge what is happening so that she can live the life that she wants, but she doesn't get to do that."
Vanessa Redgrave plays the older version of Flora in the second episode as she finds out her grandson is also gay. You also played the younger version of her character in the 2015 drama The Go-Between – it looks like you are making a habit of it!
"I know! Vanessa and I actually spent the whole summer together last year doing theatre together in London. So we know each other well now so when I found out we were both in this, I emailed her saying, 'We've done it again, we're twinned,' I think the universe is telling me I'm the young Vanessa!"
Did you have to watch her performance in order to play the younger Flora? "Yes, they filmed a lot of her ep first which meant my job was interesting. I could watch her mannerisms or the way she brushed her hair to make the character feel like the same person just 60 or 70 years apart because when you have been through some sort of trauma you do tend to stay there emotionally – it is hard to move on from it. Being able to see what she did made my job much easier."
Man in an Orange Shirt screens on Monday, July 31 on BBC2 at 9pm
Get the latest updates, reviews and unmissable series to watch and more!
Caren has been a journalist specializing in TV for almost two decades and is a Senior Features Writer for TV Times, TV & Satellite Week and What's On TV magazines and she also writes for What to Watch.
Over the years, she has spent many a day in a muddy field or an on-set catering bus chatting to numerous stars on location including the likes of Olivia Colman, David Tennant, Suranne Jones, Jamie Dornan, Dame Judi Dench and Sir Derek Jacobi as well as Hollywood actors such as Glenn Close and Kiefer Sutherland.
Caren will happily sit down and watch any kind of telly (well, maybe not sci-fi!), but she particularly loves period dramas like Call the Midwife, Downton Abbey and The Crown and she's also a big fan of juicy crime thrillers from Line of Duty to Poirot.
In her spare time, Caren enjoys going to the cinema and theatre or curling up with a good book.
Thank you for signing up to Whattowatch. You will receive a verification email shortly.
There was a problem. Please refresh the page and try again.