Joanna Vanderham: 'I didn't think The Paradise would be this successful!'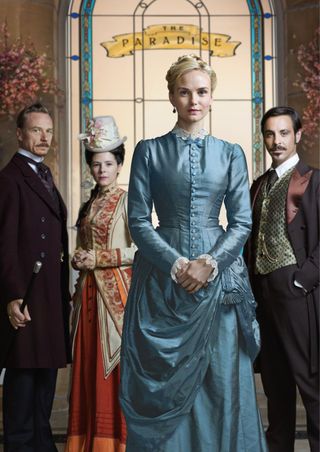 Joanna Vanderham returns in the second series of hit BBC period drama The Paradise (opens in new tab) on Sunday and we caught up with her talk about her new wardrobe and being recognised on the tube..
Your hair looks fabulous - is it real?
"It's not. Mine is the front bit and back bit is added on... the stylish bit in other words!"
The Paradise has been a runaway success. Did you expect it to do so well when you were working on the first series?
"I read the script and it was BBC, so I knew it would be a quality piece. But I didn't know who else would be in it and who else you're working with is often an indication. The rest of the cast when they were told it was going to be me probably said 'who'?
"I just hoped for the best to be honest! I read the novel and I knew that period dramas were popular, so I was hopeful. It had all the right elements, but I didn't think it would be as successful as it has been.
Were you excited to be returning for series two?
"I wanted to know what happens! I couldn't believe I had to wait months to find out, so when I got the scripts I read them all straight away."
When we pick things up, Denise and Moray still aren't married and he's been sent away - do you think the audience will be upset?
"I hope not because if I'm honest, if they had got married then that would have been the story over. We don't want to give them that gratification straight away! If everybody is happy then it becomes a very boring story."
As the story opens he comes back and that's the first time she's seen him in a year...
"Yes, so they've been writing to each other. He's been to France, Morocco and Tanzania. He's been very busy. They've been writing to each other and keeping that love alive. It's a shame Emun (Emun Elliot who plays The Paradise's manager John Moray) didn't get to go to all those places - I would have gone with him!"
When he comes back they resume their affair?
"It's far more complicated than that. There's the whole issue of who owns The Paradise and who would be upset by them getting together. The ambition they both have, they put that in front of their union. The fact that they both need the store so much more is really interesting."
...and you have some fantastic outfits as well this year?
"It's a costume drama so we know the audience likes to see lots of different dresses. In series one we stuck to the reality, that she just wouldn't have that many outfits because she didn't have much money! I think she had three dresses in total. This series we're ignoring the reality! I have... maybe seven dresses already? I love all that."
So it's like Denise does Downton!
"No! Denise does the Paradise!"
Are you used to the corset yet?
"The first time you wear it, you can't get your breath. You do get used to it. It does help me get in to character, it did in the first year. I have now become very used to it and my body has changed shape as well. By the end of shooting I'd lost half an inch off my waistline without losing any weight!"
The viewers really seem to like Denise, do you get recognised a lot when you're out and about?
"There have been a few. One woman on the tube said to me 'You're from the TV'... which was funny. She couldn't remember what show I was on!"
So do you think the show will be coming back for a third series?
"I am saying nothing! That's a giant no comment."
Get the latest updates, reviews and unmissable series to watch and more!
Thank you for signing up to Whattowatch. You will receive a verification email shortly.
There was a problem. Please refresh the page and try again.