Joanna Vanderham: 'I read The Go-Between by chance just before the script came through!'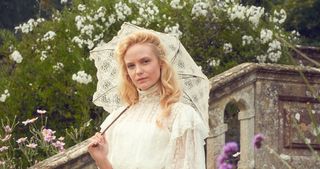 (Image credit: BBC/Robert Viglasky)
On a glorious summer day on a village green in Oxfordshire, a hotly-contested cricket match is underway. Men in white flannels and striped blazers are fiercely battling for every run, while ladies in huge hats shelter under parasols, and a small boy waits eagerly to be asked to take his turn on the pitch.
TV Times (opens in new tab) has been transported back to the turn of the 20th century on the set of BBC1's adaptation of LP Hartley's classic coming-of-age novel The Go-Between (Sunday, September 20) for a chat with two of the show's cast, Joanna Vanderham (opens in new tab) (Paradise) and Ben Batt (opens in new tab) (Scott and Bailey).
So where does it all start?
Joanna: "It begins in the 1950s as an ageing Leo played by Jim Broadbent, reflects on life-changing events that occurred in the summer of 1900. Young Leo is captivated by Marcus's free-spirited older sister Marian."
And what's the relationship between Marian and Leo?
Joanna: "Marian feels stifled by social restraints and angry with her ambitious mother Mrs Maudsley, who wants her to marry scarred Boer War veteran Viscount Trimingham. She's fascinated by Leo because he is this gem of innocence in this world that she hates."
What is it about the world that she hates?
Joanna: "She is dynamic, complicated and on a knife-edge because she is in a period when you had to marry to progress your family's status, but she sees what her life could be, so it is all the more tragic that it is not given to her."
How does she see her life panning out differently?
Joanna: "Although Trimingham is besotted with her, her affections lie with the earthy tenant farmer Ted Burgess."
So how does Leo become involved?
Ben: "Leo befriends Ted, and Ted asks him to carry a secret message to Marian. The boy becomes a go-between for the couple as they conduct an illicit love affair."
What motivates him to ask a young boy to do something he knows is likely to end in tears?
"Ted's angry about class and not being able to be with the woman he loves, so he sees Leo as an opportunity to arrange to meet her but selfishly, he forgets how he is manipulating his innocence."
And how does Leo cope with the responsibility?
"He doesn't want people to get hurt, he doesn't understand what's really going on and what he is an accomplice in."
Did you read the 1953 novel before you took the role?
Joanna: "I was captivated by it after reading it by chance just before learning about the new adaptation. It was such a coincidence because I was filming a different project and I wanted something to read so I went to a second-hand bookstore next to where we were staying."
And how did you end up reading that exact one?
Joanna: "The assistant recommended The Go-Between and I fell in love with it so when the script came through, I felt it was meant to be, and I was ecstatic!"
Were you influenced at all by the 1971 film version?
Ben: "I've seen the original, but I keep reminding myself that this is our version. I'm nervous anyway because Ted is such a wonderful character and I want to be good.
"But the worst thing I could do would be to copy someone else's performance. I love Alan Bates, but if I did scenes thinking, 'This isn't the way he did it', it would drive me bonkers."
There's a lot of cricket in the script, is it a sport you enjoy day-to-day?
Ben: "I'm terrible at cricket, so when I read the script I realised that it would be hard. On another occasion I have to swim naked in a river and I also have to sing a romantic song tomorrow as well and I can't hold a note!"
Get the latest updates, reviews and unmissable series to watch and more!
Thank you for signing up to Whattowatch. You will receive a verification email shortly.
There was a problem. Please refresh the page and try again.