The Body Coach Joe Wicks - My 7 ways to get fit for free (you won't need the gym!)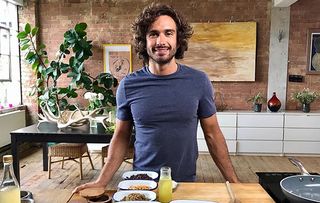 (Image credit: Channel 4 Television)
Joe Wicks, aka The Body Coach, shares his seven top health and fitness tips…
Personal trainer and best-selling author of Lean in 15 Joe Wicks is currently helping people struggling with fitness and food issues in his C4 series, Joe Wicks: The Body Coach.
Here Joe Wicks generously reveals how to get fit for free…
Step 1: Mind set – think of the benefits
Joe: "It's never too late to get active and healthy. Remember it's not about how you look; it's about your health and how you feel. Whatever your age, exercise always makes you feel good. Science shows it helps with depression, arthritis, dementia, Alzheimer's and improves bone density."
Step 2: Gym-free fitness
Joe: "I'm a big fan of home workouts. You can work your muscles and build a really strong body using your own body weight. You don't need expensive equipment!"
Step 3: Easy exercises
Joe: "For lower body strength do squats and lunges. For upper body strength do triceps dips and press-ups. You don't have to do a full press-up. A box press-up on your knees will strengthen your upper body. For cardio exercise running on the spot and skipping are great."
Step 4: Keep moving
Joe: "The main thing is to keep moving. Don't succumb to the idea that you're unfit or too old. Exercise keeps you young; incorporate it into your life. Go for a cycle or a swim. Or simply get some fresh air and feel good about yourself. Do exercise you enjoy and make it a regular thing in your life – my Nan loves aqua aerobics!"
Step 5: Include the kids
Joe: "The thought of exercising, cooking and looking after the kids can feel stressful, so get your kids involved when you're exercising or cooking. Let them have their TV time or iPad time but also get them outside and moving for 30 minutes."
Step 6: Feed yourself
Joe: "Food shopping and meal planning are important habits. That way, if you've no time to exercise at least there's something healthy to eat that isn't junk food. You don't need to starve yourself. Also remember a little treat or slip up isn't the end of the world!"
Step 7: Online freebies
Joe: "Although I've got books and DVDs I'm really into giving out free content. I provide free workouts on YouTube, including Beginners HIIT and Easy on the Kneesy. I also share free recipes online. I believe everybody needs information that can help them. As long as you are making a few changes I'm happy!"
Joe Wicks: The Body Coach, is on C4 at 8.00pm on Tuesday.
Get the latest updates, reviews and unmissable series to watch and more!
Thank you for signing up to Whattowatch. You will receive a verification email shortly.
There was a problem. Please refresh the page and try again.