John Simm: I'd certainly consider Life on Mars reboot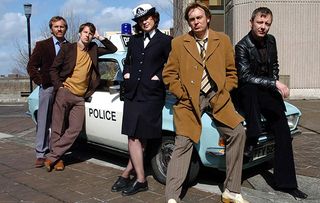 (Image credit: PA Archive/PA Images)
The actor admits he'd play Sam Tyler one more time.
Life on Mars and Ashes to Ashes writer Ashley Pharoah previously admitted that there was supposed to be a third series of the cult hit series but it never happened. Now, actor John Simm, who played DCI Sam Tyler opposite Philip Glenister as politically incorrect 70s cop DCI Gene Hunt, reveals he'd be happy to return to the role.
"Nobody's mentioned it to me but I'd certainly consider it. Other roles I've played, in Prey and Trauma, are everymen, they're normal guys and it wouldn't be fair for anything else to happen to them," he tells us.
"Life on Mars is very different, because there's three years between that and Ashes to Ashes, which we could mine, it would be doable. It's about time travel so you can get away with anything – I ended up back in Doctor Who and I never thought that was going to happen!'
Fans can see John in action next Monday opposite Emilia Fox in eight-part ITV thriller Strangers. He plays Jonah, a man whose world comes crashing down around him when his wife dies abroad and he discovers she's been leading a secret double life.
"It's so intriguing to wonder how anyone might react to that kind of news – as if it wasn't bad enough that his wife has died, Jonah has to deal with being caught up in a conspiracy as well.
"He's not a stupid man, but he's also not Indiana Jones – he's a college professor and here he is trying to be strong and having to work out what's happened. We had to bring that to life and get the audience to share in the horror of it as he tries to adjust and get his head round what's going on."
Strangers begins on ITV next Monday at 9pm.
Main pic: PA Archive/PA Images
Get the latest updates, reviews and unmissable series to watch and more!
Thank you for signing up to Whattowatch. You will receive a verification email shortly.
There was a problem. Please refresh the page and try again.