Julia Ormond: 'I drew on my experience of age gap relationships for Gold Digger'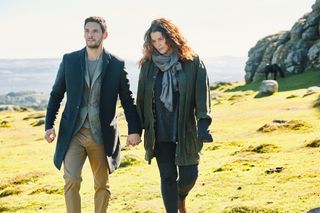 (Image credit: BBC)
The US-based British star opens up on playing a woman who falls for a man young enough to be her son...
After spending nearly two decades in America, Julia Ormond returned to British screens with a memorable cameo in Howards End two years ago, but there'll be no early exit from this new "domestic noir".
Full of intrigue and dark family secrets, the six-part drama follows Julia Day, a wealthy divorcee who worries that life has passed her by, until she meets Benjamin (Ben Barnes) a good-looking man 26 years her junior…
The pair set off on a whirlwind romance, yet Julia's three grown-up children wonder if Benjamin's love for their mother is genuine – or whether he's just after her money?
We caught up with Julia Ormond, whose Hollywood hits include films such as Legends of the Fall and Sabrina, to find out more about Gold Digger...
What can you tell us about Julia?
Julia Ormond: "She's a 60-year-old woman who gave up her career for her kids and has now been left by her husband of three decades. What happens when a person comes out the other side of that with nothing to show for it? Julia feels invisible, so it's exciting when she meets Benjamin and he takes an interest in her. Hopefully she's a character that provokes debate."
https://youtu.be/N4V7XNarlWA
How closely could you identify with Julia's story?
JO: "I've had my own experiences of age gaps in relationships that I drew upon, although I'm not going to go into details on that! But I remember thinking that if we got the tone right the audience should be rooting for this relationship, while also feeling that something doesn't quite add up."
It's more than just a love story though isn't it?
JO"The series is set within a dysfunctional family who made dysfunctional choices around a history of trauma. Then this new person comes into their lives and reawakens something from their past. Each episode is told from a new perspective within the family and people remember things differently, which was a fantastic dynamic."
WHAT IS ON TONIGHT? Check out our NEW and improved TV Guide
How rare are roles like this for women in modern British TV?
JO: "Parts that have something important to say in a compelling way don't come along too often. You want to do work that you're proud of at the end of your career, something that's relevant and resonates with the times. It's liberating to be telling a female story without pandering to clichéd requirements of a male audience. But it's also an exciting story that doesn't lag at any point. It keeps you questioning and it keeps delivering and it builds and builds and builds!"
Is it co-incidence that the lead characters share first names with you and Ben Barnes?
JO: "The producers swore that wasn't deliberate, but it was quite weird at first. Ben and I went for a meal before filming started and had a laugh about it. He's based in America as well, so we both wanted to get a pub roast with plenty of Yorkshire Puddings while we had the chance!"
How was it filming the intimate scenes with Ben?
JO: "It's a bit like mountaineering – it's fine as long as you don't look down!"
Gold Digger begins on Tuesday 12th November on BBC1
Get the latest updates, reviews and unmissable series to watch and more!
Thank you for signing up to Whattowatch. You will receive a verification email shortly.
There was a problem. Please refresh the page and try again.