'I hope the film explains how Keith Richards became someone who would reinvent the rules'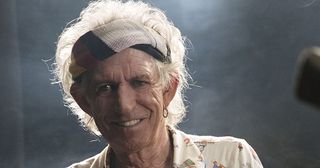 (Image credit: BBC/Nitrate Films/Jane Rose)
Top documentary film-maker Julien Temple relives Rolling Stone legend Keith Richards' early years in an innovative new film
The Rolling Stones and the lives the band has led need no introduction. Less well known are Keith Richard's early years, until now, when a new documentary by acclaimed film-maker Julien Temple looks at the life of the guitar legend right up to the start of the Stones.
Temple tells us how a new documentary takes rock legend Keith back to the days when he was a child growing up in Dartford…
So much about Keith Richards is already the stuff of legend... "There are the hits written with Rolling Stones bandmate Mick Jagger, including (I Can't Get No) Satisfaction, Sympathy For The Devil and Brown Sugar. And since the Stones formed in 1962, Keith's exploits, on and off stage, have made him the personification of the rock n' roll lifestyle."
Less well known are Keith's early years... "The film asks what compelled the former choirboy who sang for the Queen at Westminster Abbey in 1955, to take up rock 'n' roll, and why teenagers like Richards were able to change the worlds of music, culture and fashion in the early 1960s.
"I don't think there is a better historian of that time than Keith Richards. He is a very acute observer and a spellbinding raconteur. Every second he is on screen is memorable. His story brings that journey through to the 1960s vividly alive.
"It is not about the Stones, it is about Keith's formation as a person, and how the 1960s coalesced through those post-war years that he lived through and grew up in. I hope the film explains how Keith became someone who would reinvent the rules."
Thanks to decades of excess, Keith could be forgiven for not remembering much of his youth, but you've used innovative methods to take us into the world in which he grew up... "He doesn't just remember it, he re-enacts it, he relives it. We are using green screen to give the sense of him sitting in the Saturday morning pictures with all the other kids back then, and being on the streets of Dartford as his memory floats around."
So what are the key events that shaped the young Keith? "Singing in Westminster Abbey for the Queen ,then being thrown out of the school choir when his voice broke – events like that are huge for children. I also didn't know that his mum had killed his pets! That is going to do something to you. And by the way, he had a fantastic mum, without her none of this would have happened.'
Keith Richards: The Origin of the Species screens on BBC2 on Saturday, July 23
Get the What to Watch Newsletter
The latest updates, reviews and unmissable series to watch and more!