Killing Eve's Jodie Comer: 'I found myself doing lots of outrageous things and getting away with it!'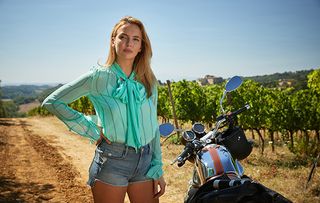 (Image credit: BBC)
Jodie Comer has already played 'the other woman' in the acclaimed drama Doctor Foster - now she's playing a nemesis of a different kind in BBC1's new thriller Killing Eve. Here, she tells us more...
Doctor Foster star Jodie Comer on playing a kick-ass female assassin in BBC1's new thriller Killing Eve…
After landing roles in My Mad Fat Diary and Thirteen, actress Jodie Comer became a household name as "other woman" Kate Parks in BBC1's acclaimed drama Doctor Foster. Proving there's no limit to her talents, next week, Jodie plays a fearsome Russian assassin in the eight-part spy thriller Killing Eve.
Adapted by Fleabag star Phoebe Waller-Bridge from the books by Luke Jennings, the drama is centred on MI5 officer Eve Polastri (played by Grey's Anatomy actress Sandra Oh), who finds herself on the trail of a ruthless killer, code-named Villanelle, played by Jodie.
As the series begins, Eve is bored in her desk job at MI5, when news comes of a string of high-profile murders across Europe. After learning from the latest victim's girlfriend that the killer is a woman, Eve becomes hell-bent on catching Villanelle and what unfolds is a dangerous cat-and-mouse game between the two women of kill – or be killed!
This first series has already been a huge success in the States and with filming for series two already underway, TV Times sat down with Jodie, 25, to find out what it's really like playing a cold-blooded killer…
What's it been like playing assassin Villanelle?
Jodie Comer: "It's so much fun! Villanelle's such a free-spirit; she does what she wants and there are not many consequences for her and, if there were, she doesn't really care anyway. I just found myself doing lots of outrageous things and getting away with it. I can be quite a self-conscious person but Villanelle doesn't have an ounce of that!"
As evil Villanelle embarks on a killing spree across Europe, is anyone safe from her clutches?
Tell us more about her…
JC: "Villanelle's a total narcissist and a show-off. In the way she dresses and in the way she kills, there's nothing subtle about her. She lives on her own in Paris and this 'job' she does affords her all these luxuries, so I think she loses control a little bit. She becomes very aware that there are people who are coming after her and she wants to lure them in, like her prey. But then she gets a bit careless."
What's it been like working with Sandra, who plays Eve?
JC: "Villanelle and Eve meet – unwittingly – in episode one and you know from that moment they're gonna come head-to-head later in the series. That was actually my audition scene with Sandra and it allowed her to get a sense of what I'm like to work with. I love the way Sandra describes it as 'a dance' – just two people interacting and working together. Thankfully, I got the job!"
Villanelle (Jodie) and Eve (Sandra) meet by chance in episode one - but neither knows who the other is...
Would you say Villanelle and Eve become obsessed with one another?
JC: "Yeah, Villanelle and Eve definitely become obsessed; there's an infatuation, a curiosity and a respect there. I think there is something that one of them has that the other one is missing and vice versa. And what that is, they're desperately trying to figure out. But I don't think Villanelle will stop until she's stopped!"
Villanelle speaks five languages in this show, do you?
JC: "No! No I don't actually. I do wish I'd listened more in school. Luckily, I had an amazing voice coach, Paula, who helped me with all of them. I had to learn the English first and then translate it, just so I understood what it was I was actually saying and I wasn't just talking at people. It was fun."
Jodie Comer alongside Suranne Jones in THAT now infamous dinner party scene in Doctor Foster
Killing Eve boasts lots of strong women both on and off screen. Why do you think it's a great drama for today's times?
"I think there's always a right time for it. On-screen, the female characters in Killing Eve don't apologise for anything, and I can confirm that writer Phoebe Waller-Bridge is a total force! I've been very lucky in that my past four jobs have all been written by women or the women have been the lead protagonists, like in Doctor Foster. I'm proud I've had that experience, which I know is something not a lot of people can say."
Killing Eve starts on Saturday September 15 at 9.15pm on BBC1.
Get the latest updates, reviews and unmissable series to watch and more!
Thank you for signing up to Whattowatch. You will receive a verification email shortly.
There was a problem. Please refresh the page and try again.