'Koreans love a drink!' John Torode travels east on his latest culinary odyssey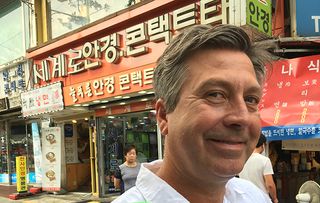 John Torode promises an adventure worth tuning in to, from battling to eat moving octopus using metal chop sticks, to trying to keep up with the locals drinking
MasterChef fans will know that John Torode has a cast-iron stomach. Few dishes faze the TV judge and popular chef, but Korea tested his palate. And his nerve.
In an exclusive chat with TV Times (opens in new tab) John spills the beans on his new 10-part series for the Good Food channel (opens in new tab), John Torode's Korean Food Tour. He reveals the perfect example of how the cuisine challenged him.
He said: "So the thing about Korean food is that it has to be absolutely fresh. I had octopus one day and watched someone clean it, chop it and hand it to me to eat."
To our shocked faces, he added: "They use metal chopsticks, which I couldn't use as it was so slippery – so I had to wait until the tentacles suckered on to the chopsticks. And was then told to chew hard at least 10 times otherwise the suckers can get on your vocal cords… I know, it's hardcore! It takes a bit of getting used to."
So why Korea, John? "It's always fascinated me. It's one of those places people think they know something about and actually they know nothing! Similarly, the Koreans think the world knows about their food, but very few people do!"
What's the most unusual thing you ate? "Moving octopus is up there. Chilled noodles with floating ice cubes was bonkers, but brilliant. The thing is, Korean food isn't just about flavour, it's about texture and sensation too. So if it's cold food, it'll be served so freezing it numbs your mouth. If it's hot, it's searing hot and burns your tongue. And when you have something unusual, it's often moving!
"So, sashimi – you walk down a street market and ladies will be there with tubs of live fish swimming around. They kill it, clean it, make it into sashimi and you eat it there and then. It's not cold out the fridge like we're used to, but room – sorry, air - temperature. That feels unusual too."
Any other big surprises?"Koreans love a drink. Boy, I never realised how much. They drink more alcohol than anyone in the world – over four times as much as we do and twice as much as the Russians. Their national drink is a fermented rice spirit called Soju. I soon realised I needed to go easy on it if filming the next day!"
You obviously enjoyed sampling the food. What did you enjoy cooking? "I had my own kitchen in Gangnam in Seoul and loved making Korean ginseng chicken soup. And iced noodles, which are delicious. Again, it's about sensation and texture so there's the amazing flavour from the spicy sauce, and because of the ice cubes you have to slurp – Korea is big on slurping – that's the sensation."
John Torode's Korean Food Tour premieres on Monday, July 17 at 9pm on Good Food Channel, Sky
Interview by Rebecca Fletcher
The What's on TV team brings you everything you need to know about the world of TV. We have all the information on what is happening in the soaps, what you can't afford to miss on television and which new shows and series are launching. Our handy guides, to all the latest TV shows, bring you everything you need to know about new launches, returning series and must-see events so that you don't miss a thing..
Get the latest updates, reviews and unmissable series to watch and more!
Thank you for signing up to Whattowatch. You will receive a verification email shortly.
There was a problem. Please refresh the page and try again.