Krampus | Film review - Dark version of Santa Claus lets rips in festive horror comedy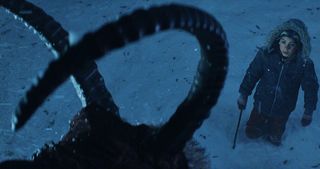 Conjuring up the tongue-in-cheek malevolence of Gremlins, family horror-comedy Krampus unleashes a cloven-hoofed monster and his evil minions upon a squabbling American family after a disgruntled 12-year-old boy rips up his letter to Santa on Christmas Eve.
Festive spirit is in short supply when the well-heeled Engel family's redneck poor relations turn up mob-handed for the holiday, but things turn from bad to cursed after the aghast Max (Emjay Anthony), convinced Christmas is ruined, destroys his missive to Santa.
As Max's wise Austrian grandmother (Krista Stadler) subsequently explains, his loss of faith in Christmas provokes the arrival of the monstrous Krampus - a dark version of Santa Claus derived from Alpine folklore – whose army of vicious snowmen, elves, toys and even gingerbread men proceed to wreak havoc, attacking and abducting members of the extended family in the midst of a freak snowstorm that has cuts them off from the outside world.
Amid the mayhem, Toni Collette and Adam Scott do sterling stuff as Max's beleaguered mom and dad, but the film belongs to the monsters, splendidly realised by a combination of puppetry, costumes and CGI.
Certificate 15. Runtime 98 mins. Director Michael Dougherty
Krampus is available on Blu-ray & DVD from Universal Pictures.
Special Features
DVD

• 10 minutes additional bonus content (TBC)

• Gag reel
2D Blu-ray

• Alternate ending

• Feature commentary

• Gag reel

• Krampus comes alive!

• Behind the scenes at WETA workshop

• Galleries
http://www.youtube.com/watch?v=h6cVyoMH4QE
Get the latest updates, reviews and unmissable series to watch and more!
Thank you for signing up to Whattowatch. You will receive a verification email shortly.
There was a problem. Please refresh the page and try again.